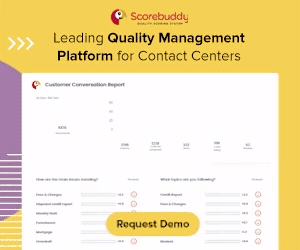 In the hyper-competitive world of the call centre, customer loyalty is vital for brand value, lead generation, and steady revenue. Loyalty is a key indicator of the long-term success of any business and, when it comes down to it, a significant contributor to overall profitability.
Fostering loyalty is about more than making customers happy or giving them a great product; it's about convincing them to choose you over your competitors. In this article, we will examine the reasons for prioritizing customer loyalty and the best strategies for nurturing it.
What Is Customer Loyalty and Why Is It Important to Your Call Centre's Success?
Customer loyalty means that a customer is willing to purchase from and interact with a business time and time again. Rather than looking elsewhere and switching to a competitor, loyal customers will keep coming back to you.
A number of factors contribute to this loyalty. Perhaps they keep coming back for the memorable customer experience or the excellent service, maybe your brand values align with their personal values, or your product is just the best on the market.
Most likely, it's a combination of the above. Building these lasting relationships reaps the rewards, with loyal customers driving revenue, bringing in referrals, and improving the overall perception of your brand.
Here, we'll take a look at some of the main reasons why loyalty matters in the call centre.
Increased Retention, Revenue, and Customer Lifetime Value
With existing customers spending, on average, 67 percent more than new customers, retention remains an essential driver of revenue generation. The longer customers stay with your business, the more they spend and the greater their customer lifetime value (CLV).
While loyalty and retention do differ somewhat, they feed into one another and, as a result, help with revenue generation.
Loyal customers are invested in your brand and engage regularly, while retained customers will purchase from you again without necessarily having that same level of brand investment. However, by retaining customers, you are taking the first step to fostering long-term loyalty.
Improved Brand Perception
In an increasingly online world, customers are extremely perceptive, and branding is more visible than ever. According to a 2021 report from Stackla, 88 percent of consumers say that authenticity is an important factor in their brand choices.
Anything you can do to increase brand perception will expand your customer base and drive up revenue. Loyal customers are, in many ways, brand ambassadors for your organization, and cultivating these ambassadors is essential. Ultimately, loyal customers serve as real-world evidence of your standout customer experience.
Word of Mouth and Referrals
Loyal customers know what it's really like to do business with you, and if they're satisfied, they might just tell their friends all about it. In fact, 88 percent of respondents to a Nielsen survey stated that they place the most trust in recommendations from people that they know.
With consumers valuing word of mouth so highly, it's important that you build a loyal customer base that can spread the word for you.
60 percent of consumers are ready to switch to a competitor after just one or two bad experiences, so you need to do everything possible to show prospects that you offer exceptional CX.
Increased Agent Motivation and Productivity
The call centre industry is notorious for its high agent turnover rates, with a NICE survey finding that the contact centre attrition rate in 2021 was an eye-watering 42 percent.
However, agent retention isn't the only problem. Even if leaders do manage to hold onto their best staff, keeping them motivated is another challenge entirely.
If loyal customers keep coming back and championing your brand to their friends and family, agents will feel that their work is meaningful and impactful, increasing their motivation and the likelihood to stay.
How Can You Measure Customer Loyalty?
To improve customer loyalty, you must be able to measure it and track the impact of any changes you implement.
Thankfully, there are a number of metrics and KPIs you can monitor to determine where your organization stands in relation to customer loyalty.
Positive Feedback and Referrals
The old adage suggests that the customer knows best. When it comes to loyalty, they certainly do. If you're receiving positive feedback and the referral numbers are up, this is a strong indicator that you're cultivating a loyal customer base.
Positive feedback can come in the form of online reviews or direct feedback to agents, while referrals can come through other websites, direct customer recommendations, and more.
Tracking the volume of referrals and positive feedback will allow you to compare with previous periods and measure your levels of customer loyalty over time.
Customer Retention Rate
While customer retention is a little narrower in focus than customer loyalty, the former is an excellent indicator of the latter.
If customers are returning to your business to make repeat purchases, it's likely that many of these customers are also loyal and invested in your brand. By measuring customer retention rate and tracking changes, you can see how you are progressing in terms of customer loyalty.
Net Promoter Score
Net promoter score (NPS) is a classic call centre metric. NPS is calculated using a one-question survey, asking customers how likely they are to recommend your organization to others on a scale of one to ten. This metric gives an excellent insight into the number of loyal brand ambassadors in your customer base.
Repeat Purchase Rate
Repeat purchase rate (RPR) measures the percentage of your overall customer base that makes more than one purchase from your organization.
Purchasing from the same company time and time again is one of the defining features of a loyal customer, so it's important to track RPR to get a sense of your overall customer loyalty.
Customer Lifetime Value
In the context of your business revenue, customer loyalty and customer lifetime value are inextricably linked. With CLV serving as an indicator of how much revenue a business can expect from a single customer throughout the relationship, it follows that a more loyal customer will have a greater CLV.
If customer lifetime value is low, then this could be a sign that something is amiss in terms of loyalty and retention.
How Can You Foster Customer Loyalty?
Now that we understand the importance of customer loyalty and the tools we can use to track it, it's time to look at some of the main strategies for improving customer loyalty in the contact centre.
Build Trust
Trust is at the heart of any long-term relationship, business and personal, so it's important that you establish a transparent, trusting relationship with customers if you want them to stick around.
There are plenty of avenues to explore when it comes to building this trust, from community forums and social media engagement to relatable brand values and ongoing dialogue with your customer base.
As the frontline representatives of your organization, agents probably have the biggest impact in this area. By addressing customer concerns, actively listening, and consistently checking in, agents can nurture long-lasting relationships where the customer feels truly valued.
Ensure Consistent Communication
Another hallmark of a strong relationship is consistent communication. If you only ever interact with a customer when they're making a purchase, it's unlikely they'll feel valued on a personal level.
By providing a personalized, omnichannel experience, you can regularly keep in touch and ensure that your customers feel recognized.
It's also important to share knowledge with the customer. For instance, you could send product tutorials or educational content about your service and how to get the most value out of it.
If you keep in touch with customers after the purchase, they'll be more likely to come back in the future and tell others about their positive experience.
Use Empathy and Ensure You Go the Extra Mile
To build trust and foster loyalty, you need to show empathy. Without empathy, it will be impossible to build an emotional connection to your brand that keeps customers engaged long-term.
With active listening and sincere responses, agents can show customers that they really do care for their wellbeing and are invested in providing the best possible experience. Remember, customer expectations are high, so going above and beyond is a necessity.
Tools like self-scorecards can help agents evaluate their own interactions to determine whether or not they displayed empathy and how best to do so.
Be the Expert
Customers look to agents for expertise and knowledge. If you want to meet customer needs, you must understand the value and purpose of your product and be capable of relaying this information to the consumer.
Generally speaking, customers will come to you with some idea of what product or service they require. By expertly pointing them in the right direction, your agents can serve as informed consultants, capable of educating consumers and solidifying their belief in your brand.
You can also illustrate your organization's expertise by creating an in-depth knowledge base accessible to both agents and customers.
Improve Relevant Metrics And Efficiency
By focusing on key metrics like CSAT, NPS, and first call resolution (FCR), you can take a multi-pronged approach to improving customer loyalty.
Small improvements in the most relevant KPIs will combine to make a big difference in your organization's customer loyalty.
For example, poor FCR indicates that your team is failing to provide quick solutions. If this is the case, it's unlikely that customers will keep returning for slow, ineffective service.
By providing the necessary training to improve FCR, you will see more satisfied customers returning time and time again as they're happy with the level of service they receive.
Agent Training
Agents are the first port of call for any customer who wants to get in touch with your organization, so it's important that they are trained to deliver exceptional service and equipped with the tools to handle any request.
This means everything from soft skills like empathy and emotional intelligence to detailed knowledge about the products and/or services on offer. Using scorecards, you can identify areas for improvement and deliver targeted coaching sessions based on individual weaknesses.
This will allow you to prioritize customer loyalty within your training approach and make sure your team is equipped to foster that loyalty.
Recognize and Reward Loyalty
What better way to improve customer loyalty than to reward it? If customers are showing commitment to your organization, don't forget to recognize it.
Special treatment, personal touches in communications, and dedicated rewards programs are just a few ways to highlight to customers that you appreciate their business and trust. VIP, tiered, or loyalty programs are also great tools to offer extra features and solidify customer loyalty.
In fact, according to a 2022 Yotpo survey, "over 83% of consumers say belonging to a loyalty program influences their decision to buy again from a brand."
Final Thoughts
Customer loyalty significantly contributes to revenue generation, brand image, lead generation, and many more essential business functions. With this in mind, it's vital that call centre leaders take steps to track customer loyalty and implement new approaches to enhance it where possible.
This could be through focusing on feedback, referrals, and retention, as well as key metrics like CSAT, NPS, and first call resolution. Using these metrics, you can identify areas for improvement and focus on building trusting, rewarding relationships with customers that benefit both parties.
This blog post has been re-published by kind permission of Scorebuddy – View the
Original Article
For more information about Scorebuddy - visit the
Scorebuddy Website