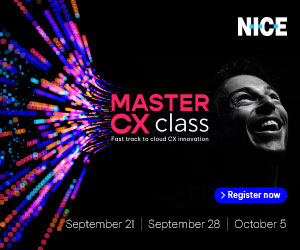 Brian Mistretta at NICE CXone outlines five tips to help provide more empathetic service to seniors.
CX technology does not always prioritize empathy during customer interactions. And some customers can't effectively self-serve—or they prefer not to. It's also true that certain customer groups will create a more challenging agent experience than the wider majority. One such group could include seniors.
Some older adults may have different life experiences from contact centre agents. There could be a disconnect in frames of reference, economics, or lifestyle that may cause a gap in empathy and communication.
Agents might believe they are providing clear, exceptional service that actually is frustrating and confusing.
The best way for your contact centre to serve seniors is to focus on soft skills during training and everboarding. Empathy is particularly important.
Patience and compassion can help improve understanding and remove barriers to delivering good service.
Here Are Five Significant Factors to Consider When It Comes to Serving Seniors:
Personalize the experience
Keep it simple
Build trust
Offer exclusive options
Provide ongoing support
1. Personalize the Experience
Like any customer group, every senior is different despite being part of the same demographic. Some are more comfortable with technology than others.
But it is wrong to assume all seniors don't regularly use digital tools because many have tremendous fluency with technology and that has only accelerated over the last three years.
The Pew Research Center reported in 2022 that the number of seniors using tablets or computers, smartphones and social media has grown in the past decade.
Having an AI-powered solution can help ensure your agents provide proactive service on the customer's channel of choice. Some seniors prefer to use chat, email, or text.
However, some want to avoid all that and be transferred to an agent right away. The right contact centre technology can help you personalize every experience.
And for customers that start their journey with a digital or self-service channel and then want to be transferred to a live agent, the right AI-powered tools can capture the nuances of that customer's journey. Then, when they do speak to a live agent, the agent is more empowered to help them.
Smart omnichannel routing will connect your customers to the right agent or self-service option. Believe it or not, some seniors are most comfortable using SMS messaging.
Soft skills, especially empathy, play a big role here. Some seniors are hard of hearing while others are not. Train your agents to speak clearly, ask questions, and listen actively during each interaction. And, above all, avoid making assumptions.
2. Keep It Simple
Train your agents to make clear statements without using acronyms, especially when they are talking to senior customers. Learning how to use tech can be frustrating, especially if you are unfamiliar with the terms.
Agents should be mindful of the words they use. Ask seniors questions to assess comprehension and use analogies they're already comfortable with.
Make sure agents provide straightforward answers to questions. They should use active listening and ask questions to ensure they are going at the right pace to ensure the customer understands and follows the conversation.
Forrester reports on average when brands deliver a high-quality experience by communicating clearly, their customers are 2.7 times more likely to spend more with them.
Having a comprehensive Voice of the Customer program and feedback management tool can provide in-depth analytics to give agents insights into customer needs and preferences.
They can access past interactions with the customer to ensure they are giving them the necessary information. This can help avoid confusion.
Tools like real-time interaction guidance leverages AI to provide in-the-moment coaching to agents to help ensure that they are providing the right kind of assistance.
By "listening" to the conversation, real-time interaction guidance can let an agent know they need to be actively listening, taking ownership, or showing empathy—among other soft skills that help guide agents and customers to a successful resolution.
It also gives supervisors comprehensive dashboard visibility into how each team member is performing against these soft skills—all designed to maximize the customer experience.
3. Build Trust
When your agents interact with senior customers, they must focus on making each individual feel heard and understood. It is essential to do this no matter which channel they use to communicate.
Like any customer, seniors may not trust a new business practice or capability and may find navigating new technology frustrating or cumbersome.
When agents speak with customers with these concerns or frustrations, it's important to take the time to answer all questions thoroughly and clearly with plain-spoken guidance. This is crucial for senior customers and requires significant empathy and patience from agents.
A good example of that approach is helping senior customers understand why your agents need to verify personal details and how it will improve the overall experience.
Have agents constantly reinforce the message that their private information is secure. This contributes to helping them feel safe and will ultimately play a crucial role in building trust with that customer.
Teaching emotional intelligence is important to help agents show empathy and patience with senior customers. Even if it doesn't come naturally, agents can learn to actively listen.
Technology can help as well, which, again, is where real-time interaction guidance can deliver incredible value to organizations by gently helping the agent successfully steer conversations and build trust and rapport with customers.
4. Offer Exclusive Options
Seniors are often on a limited or fixed income, which can be restrictive when it comes to offers. It also means that senior customers have more time than money. As a result, they are willing to invest the time to get the best deal for their dollar.
Ensure your agents understand all exclusive offers, sale days, senior hours, free deliveries, and other available exclusive offers that are applicable to individuals on fixed incomes.
Alerting a senior customer to special offers can go a long way to build trust and brand loyalty. Encourage agents to make senior callers aware of these benefits.
In order to alert customers to offers they may like, agents need full access to customer preferences and history.
A knowledge management (KM) framework provides instant access to the information your agents need to know. That way they can help customers quickly, effectively, and proactively.
5. Provide Ongoing Support
Seniors want to feel important and connected, just like the rest of us. That's why it is crucial to be responsive and helpful throughout the entire customer service process.
A good performance management tool will help agents interact more effectively with senior customers by delivering more transparency and continuous feedback.
CRM integration software helps agents understand their customers on a deeper level by seeing their full history and preferences in the tool they are familiar with.
Omnichannel software enables your agents to personalize each interaction with an easy-to-use, consolidated interface for handling all interaction channels.
Contact centre leaders can assist agents through knowledge management tools that will deliver relevant pop-up messages to the agent dashboard.
These can be a great way to help agents provide next steps to the customer and ensure they continue to receive helpful interactions and proactive services after the initial interaction.
In the end, senior customers are just like the rest of us—they want to be treated with respect and communicate in ways they understand.
An empathetic contact centre can go a long way in making their day better. Just imagine the relief and empowerment these customers will feel when they can resolve their concerns quickly and easily. Having peace of mind can be crucial for the well-being of seniors.
This blog post has been re-published by kind permission of NICE CXone – View the
Original Article
For more information about NICE CXone - visit the
NICE CXone Website