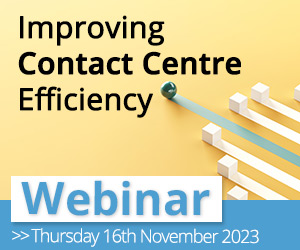 A UK healthcare provider has moved nearly 2,000 contact centre agents to work remotely from home using NICE inContact CXone, in response to increased call volume due to the COVID-19 pandemic.
Facilitated in collaboration with partner Unify Communications, the rapid deployment delivers immediate relief to overloaded, outdated on-premise systems with the reliability and scalability of the cloud.
Demonstrating the speed and agility that the cloud offers, NICE inContact CXone was implemented in just days as agents in two contact centres were shifted to work from home, taking triage for all calls related to COVID-19 as well as opening additional lines for other health services.
Consolidating with one cloud platform enables the medical management provider to improve service and responsiveness to patients by having all calls handled by one vendor while also safeguarding agents' health with the ability to productively and effectively work remotely.
"This healthcare provider is leading the charge for dealing with inbound COVID-19 calls and general medical-related issues," said Paul Jarman, NICE inContact CEO.
"This is a mission-critical resource and one that has to deliver robust reliability. We are proud of our ability to rise to the challenge and offer a reliable, agile system that can rapidly scale as call centres work to weather the COVID-19 storm."
While these lines are currently dedicated to COVID-19-related calls, the UK provider has selected NICE inContact CXone as its full-time solution going forward, recognizing the flexibility of cloud solutions and the importance of contact centre business continuity.
Russell Attwood, CEO, Unify Communications, said, "Working together with NICE inContact, we were able to get this contact centre up and running quickly in the cloud."
"Getting agents across multiple call centres in one cloud platform is more efficient and more easily managed than disparate systems.
"Many organizations are now seeing the long-term benefits of the flexibility and scalability provided in the cloud."
For contact centres looking to rapidly move to a remote workforce, NICE inContact recently launched CXone@home, a cloud-native offering designed to enable contact centres to continue delivering great customer service while transitioning their workforces to work from home in 48 hours or less.
This solution was also chosen recently by a hospital system in the UK to bolster its business continuity plans.
Companies are increasingly moving to the cloud to support contact centres during this crisis. Analysts predict a sharper uptick of cloud migration this year and beyond in response to the ways the world is changing with COVID-19.