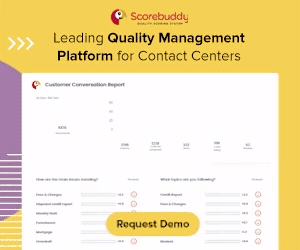 Today, customers have higher expectations of their brands than ever before. Businesses are focusing more than ever on the Voice of the Customer (VoC) analysis, which entails gathering customer feedback and evaluating it for insights to fulfill customer needs.
VoC tools may help businesses learn how their customers use their products and services, identify critical pain points throughout their journey, and gauge customer satisfaction with their purchases. Read this complete voice of customer solution guide to learn more.
What Is the Voice of Customer (VoC)?
Voice of the Customer (VoC) captures what customers say about a brand, product, or service.
The term "voice of the customer" refers to customers' experience with and expectations for some products and services.
It concentrates on customer requirements, expectations, understanding, and product enhancement.
Businesses understand their customers better and meet their needs and expectations by listening to the voice of the customer.
You can learn customer preferences, concerns, and complaints through a Voice of the Customer program.
The VoC programs recognize and respond to the consumer's voice to promote customer satisfaction and loyalty.
Businesses record the customer's voice to use the information to improve the customer's overall experience with the company.
Because this ensures that you can find meaning in the customer feedback data, VoC is best understood by utilizing technology that integrates sentiment analysis and analytics.
VoC solutions have gained popularity over time and are now fast-growing aspects of a business's primary strategy.
Customers desire contact that is more direct with a company. On the other hand, recording their feedback and acting on it is crucial to understanding a prospect's complex decision-making process.
The Benefits of Using Voice of the Customer Solutions
You can ask the right questions to understand the customer journey by doing Voice of Customer research, which helps promote customer-centric change.
In terms of digital channels, analytics may show you what is going on with your website or conversion funnels, but your customers' voices might assist you in figuring out why.
You can design better goods, give better services, and improve your customer experience by asking your customers.
Using the solutions in this voice of the customer solution guide allows you to adjust to customers' changing demands and promote loyalty.
12 VoC Solutions | Voice of the Customer Solution Guide
Prerequisites for the Voice of the Customer encompass everything you need to know before implementing a VoC plan for your business.
Efficient VoC solutions show you how to accomplish these goals in the best possible way. Here are some best practices for having an effective VoC:
Set up VoC Plan for Success
Customer feedback is collected and analyzed as part of a robust VoC program, resulting in a list of actionable, prioritized insights that may be adopted across your firm.
Monitoring your customer experience metrics shows whether the improvements you are making are having an impact.
Make sure you follow survey design best practices if you are polling thousands of people with various survey kinds.
It is also possible to use a specific voice of the customer platform. For example, VoC solutions usually come with pre-built CX survey templates and can assist you in managing and analyzing all of the feedback you receive.
Make All Beneficiaries Aware of the Process | VoC Solution
Creating a Voice of the Customer strategy is pointless if it does not include everyone in the organization.
The goal of VoC is to provide a holistic perspective of how end-users perceive a company's products and services so that everyone involved can work together to improve the experience.
During presentations or board meetings, simply displaying your findings from the feedback will not produce the best results.
To see how they use the data, you must provide them access to it in the appropriate format.
You may establish a feedback loop with special connectors that allows feedback to flow smoothly from one platform to another.
Collect Information From All Sources
You do not want your organization's Voice of Customer strategy to fail because of feedback data silos.
The goal is to collect feedback from all corners of the world and make it accessible.
You can combine feedback from all sources using one or multiple types of feedback approaches available.
Then you can separate the collective comments based on a variety of parameters for analysis and clarity.
Separate feedback data from one source may only provide a half-truth compared to what you may observe when you link it all.
Consider Data Exchange
Each department performs its research to acquire consumer input, focusing on aspects specific to the KRAs.
Although the feedback analysis may be skewed, other teams investigating relevant insights might use the raw data.
Establish a systematic pipeline of sharing information, where feedback tools can help the Voice of the Customer feedback reach all people in the company.
Understand Your Customers | VoC Solution
Imagine understanding your consumers better, providing contextual customer engagement, identifying and resolving customer concerns as they arise, and reducing churn by recognizing at-risk clients.
It is made logical by integrating all consumer input, including calls, chats, emails, digital footprint, surveys, social commentary, and shopping activity.
Effective VoC solutions can help contact centres improve customer experience, optimize product development, identify new areas to automate, and provide improved self-serve experiences that reduce typical friction spots.
Listen to the Employees
End users and personnel are involved in any product or service; however, many businesses pay attention to customer feedback and overlook the employees' input.
Employees' voices are consistent with how they feel about the product or service and consumer feedback.
Make sufficient time to listen and consider your employees' views to have a successful plan for your Voice of Customer.
Use Transactional Surveys
Customer satisfaction surveys are divided into two categories: relationship and transactional.
A relationship survey gauges how your customers feel about your brand, whereas transactional surveys focus on a single interaction.
Consider a relationship survey as a big-picture standard and a transactional survey as a tactical tool for achieving your broad customer experience objectives.
Net promoter score surveys are typically utilized as relationship surveys, whereas customer satisfaction and customer effort score surveys are typically used for transactional purposes.
Run a relational NPS survey to get a sense of how customers perceive your whole brand experience if you are just getting started with your voice of the customer program.
Use a transactional survey to go into the details once you have noticed any themes in your comments, like recurring product issues or a shipping delay that everyone is complaining about.
Consider Customer Experience Lifecycle | VoC Solution
Create a customer experience lifecycle document to assist you in understanding all of your customer interactions and identify milestones where transactional input might help you improve a specific experience.
Would the customer success team, for example, like feedback on the onboarding process via a CSAT survey at the Adoption phase, right after the purchase? Would the customer service staff prefer to use a CES survey to assess their performance on support ticket feedback?
You may choose the customer experience survey, distribution route, and survey scheduling for each touchpoint.
With the correct CX platform integrations, you can easily send out surveys based on customer interactions and direct feedback to teams that can follow up with customers.
You can combine Delighted with appointment scheduling software providers like Appointlet, for example, to take feedback following a customer meeting.
Request feedback from meeting attendees at any step of the customer lifecycle, from sales meetings to support sessions.
Catalog Customer Interaction Channels
Customers can communicate with you in various ways, depending on your business.
Do you have an eCommerce site as well as a physical location? Do you have a yearly conference where you meet with customers?
To collect customer feedback at any touchpoints, use web intercept surveys, link surveys for printed marketing materials, or customer satisfaction surveys as an event survey.
Measure Your Metrics in ROI
It is normal to lose track of why you are doing something when involved in so many things.
You may emphasize some micro-objectives such that the significant goals begin to fade into the background.
Keep in mind why you are doing your job to get a proper return on your investment. All of your methods should provide you with a more significant return on investment than you put in.
So, when measuring Customer Satisfaction metrics from the customer's perspective, have this principle in mind.
Aside from the CS KPIs, you should include the cost incurred and the level of efficiency you could achieve in your assignment when determining the ROI of your VoC strategy.
React in Real Time
Customers today expect to communicate with companies and brands on their terms, on whichever channel they like, throughout the customer experience.
It makes keeping track of their expectations and providing excellent customer service challenging.
Customer data from numerous channels is easily integrated into our holistic voice of the customer platform, allowing you to record, analyze, and act on data in real time.
You can ensure that you meet and surpass your consumers' expectations by listening to them and gathering their feedback. As a result, the net promoter score and customer satisfaction ratings may improve.
Build Long-Term Relationships
A customer's relationship with a company or brand affects becoming a loyal customer.
It would help if you gave each interaction laser-like attention to achieve long-term consumer retention.
Our voice of the customer programs links every customer encounter and touchpoint, allowing you to see where you need to improve and pinpoint substantial pain and delight points.
Businesses can use the voice of the customer solutions to analyze their customer data and construct a full-fledged VoC solution by using them to understand better customers' opinions and needs.
For example, suppose you incorporate all of this voice of the customer solution guide suggestions into a VoC program. In that case, you can identify experience gaps at each point of the customer journey and track their impact over time.
For more information about Scorebuddy - visit the
Scorebuddy Website