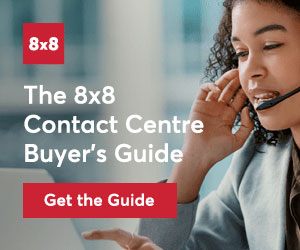 Sarah Murphy at 8×8 looks at the difference between VoIP and UCaaS and asks what is best for you business.
A critical part of success in the fast-paced modern economy is finding the right communications solution for your business model.
While there are plenty of different options, it's hard to beat technologies that leverage the power of the internet for reliability and cost-effectiveness.
Two of these technologies have become essential for the competitive business to understand: Voice over Internet Protocol (or VoIP) and Unified Communications as a Service (UCaaS).
Making the best choice for your company between VoIP vs. UCaaS involves knowing what they are, how they generally work, and which business models they are each best suited for.
What is VoIP Technology?
VoIP technology, first introduced in the mid-90s, makes it possible to place telephone calls through an internet connection.
VoIP provides the same basic benefits as a landline phone, allowing users to place calls to any kind of phone and to receive and monitor incoming calls. It also provides additional internet-based features such as:
Seamlessly forward calls from a desk phone to a mobile device
Call recording and logging
Voicemail to email forwarding of recorded voice messages
Automated call routing that gets calls to the right person in your business
Easy management of dial-in conference calls
Today, VoIP solutions are typically more affordable than traditional landline systems and much easier to scale with your company's growth.
This can make it a highly attractive option for small to medium-sized businesses, particularly if a large portion of your work involves being on the phone with customers and prospects. However, what about business communications beyond a voice call?
What is UCaaS?
Where VoIP is focused on phone calls, UCaaS goes further and offers a robust range of communications tools. Not only does UCaaS have VoIP as one of its component features, but it will typically integrate all the ways you can communicate into a single platform, from email and SMS text messages to video conferencing, chat apps, analytics, and additional integrations for business software.
What's more, UCaaS solutions provide the ability to switch seamlessly from chat messages to voice calls and video meetings all within the same platform.
Why is UCaaS Becoming More Popular for Businesses?
With more and more companies embracing a hybrid business model, UCaaS's cloud-based system makes it possible to utilize and manage from anywhere in the world with an internet connection.
UCaaS is a cost-efficient and scalable solution with internet-based processing power and data storage, and it presents a reliable way to make a global and distributed workforce more productive.
What is the Right Choice for Your Business?
It's important to consider the specific needs and use cases for your business. For example, if your business doesn't make much use of video conferencing or team chat but frequently uses the phone system, a simple VoIP system may meet your needs.
On the other hand, businesses looking for long-term solutions may prefer UCaaS for a full feature collaboration and communications platform. Additionally they may want to consider UCaaS if they are looking to:
Decrease total cost of ownership (TCO) across communication and collaboration tools
Set up, configure, and modify features and services for new users, workgroups or teams around the world from one place
Streamline management and maintenance by eliminating disjointed, inefficient multi-vendor communications
Easily scale communications as business grows and changes
Develop strong business continuity and incident management communications across all channels including voice, video, instant messages, and text
Keep up with competitors by easily upgrading to new communications features that don't include restrictive costs
Gain critical visibility and insight into communications through interactive dashboards and custom reports
Increase productivity and decrease errors by integrating data across apps, including Salesforce, Office 365, HubSpot, etc.
Improve the customer experience by unifying channels and integrate seamlessly with remote workforce tools like Microsoft Teams
This blog post has been re-published by kind permission of 8x8 – View the
Original Article
For more information about 8x8 - visit the
8x8 Website