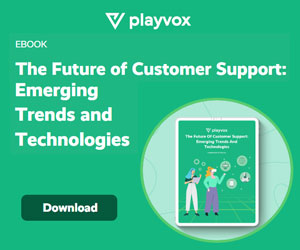 Kristyn Emenecker at Playvox outlines five ways contact centre capacity planning needs to change.
If the last 24 months have taught us anything, it's that long-term capacity planning is in dire need of an overhaul. Our world is dynamic. Business is dynamic. And hiring is dynamic.
In the dynamic world of customer support and service, capacity planning, or the process of long-term forecasting and planning for staffing needs, can't be static. It's no longer a one-and-done activity.
I recently spoke at the Society of Workforce Planning Professionals (SWPP) conference in Nashville, Tenn. My presentation was called "And Now We R.O.C. – Radically Operationalized Capacity Planning."
There was no body surfing, pyrotechnics, or cell phone "lighters." Just an amped up audience of contact centre workforce planning rock stars ready to talk about why customer support capacity planning as we know it must change.
Before hitting the road for my Nashville "tour," I did a sample poll. I wanted to know how contact centre leaders were feeling about their staffing plans.
Just 20% of survey participants said their current staffing was where their capacity plan indicated it should be at this point in the year.
A whopping 80% said their staffing plans were off because of attrition, hiring shortages, new training requirements, extended employee onboarding sessions, or other reasons. Essentially, these survey respondents said they have a capacity plan and a budget, but they aren't getting the job done.
Complex and Crumbly: The Capacity Planning Formula
Capacity planning is based on an intricate set of assumptions such as hiring timelines, expected churn, the nature and amount of work, length of training, and the amount of paid time off or other benefits.
But when one of these elements changes – as is often the case – the entire formula can crumble. It's time we overhaul capacity planning so it can withstand the shifts that will keep coming our way.
At the SWPP event, I shared with the audience these five ways to revamp contact centre capacity planning.
1. Adapt in Real-Time
As organizations navigate unique business pressures, hiring timelines and assumptions can quickly become obsolete. This prompts a change in the onboarding and training schedule. And just like that, your shrinkage calculations are off.
Static annual plans may have worked at one point, but as the velocity of change continues to accelerate, so does the need for processes and plans to instantly adapt.
2. Loop in the Short-Term Workforce Schedulers
When annual plans start to break down, workforce schedulers are the first to feel the impact. Often, those setting the long-term capacity plans and the team members doing the regular scheduling and trying to hit Service Level Agreement (SLA) targets, are using different systems.
Plus, they're often members of different departments. This makes it easy to miss potential problems.
Don't put your long-term plans on a shelf. To be effective, they must be shared with and regularly reviewed by the workforce team members who ensure the needs of the business – and customers – are being met.
3. Loop in Hiring, Training, Finance, and Operations
Staff scheduling is challenging in the best of circumstances, but even more so when hiring lags. The entire organization wins, though, when workforce managers can bring data to their critical partnerships with their peers in recruiting, training, finance, and operations.
When workforce managers can change assumptions in real-time, hiring activities can proceed earlier (when timelines are extended) and total monthly new hire targets can be adjusted based on real-time attrition trends. Accuracy – not "gut assumptions" – rules the day.
As the contact centre industry continues to embrace advanced technologies like machine learning and AI, workforce management (WFM) systems should provide the tools to complete capacity plans and the visibility to have these plans continuously reviewed and assimilated in real-time.
This enables staffing insights to be instantly applied, or even suggested automatically, through the use of AI.
4. Bring Capacity Planning Into Everyday Conversation
As business conditions change, it's easy for the long-term plan to be never spoken of again, but this hurts employees and customers. Make the capacity plan a living and breathing part of every conversation.
Visibility is key. Keep the staffing projections and budget at your fingerprints so you can easily reference and fine tune your evolving workforce needs.
When it's built into the WFM system and continuously shows a real-time comparison, the conversation naturally begins to change. Visibility and a single version of the truth are the only ways to really adjust and change.
5. Be Radically Operationalized
Every day. Weave it into your KPIs. I know this is a radical change in the way long-term forecasting is handled, but our business has radically changed.
Running blind and short-staffed creates risk among your current team and you want them to stay. Running blind and short-staffed also creates pain for customers and missed SLA targets, and this shouldn't be acceptable to any business.
Seeing the data and working across departments, including finance, can ensure that the targets originally planned in the annual capacity exercise are real and achievable.
One-and-done capacity planning is a thing of the past. Today's business climate is in a constant state of flux, which means contact centre leaders – and their staffing plans – can't be static.
Overhaul your capacity planning formula with these five steps and you can be confident that you're staffed to deliver rockstar customer service that keeps clients feeling like VIPs and cheering for an encore.
This blog post has been re-published by kind permission of Playvox – View the
Original Article
For more information about Playvox - visit the
Playvox Website