A smart approach to quality assurance (QA) can positively change advisor behaviour, motivate the team and measure customer experience. It goes way beyond ensuring compliance.
But, how can we ensure that we are gaining all of these benefits in our contact centre?
Well, fortunately this webinar is here to help, as we share some great methods for modernising your QA strategy, getting the best balance between man and machine for the benefit of both your contact centre team and your customers.
Agenda
Introductions – Rachael Trickey, Call Centre Helper
Daniel Ord, OmniTouch International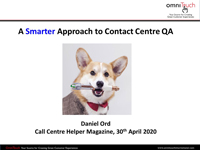 Click here to view the slides
Tom Vander Well, Intelligentics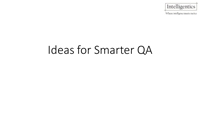 Click here to view the slides
Topics Discussed
What does the future of QA look like?
Smart tactics to improve contact centre QA
Automating the right parts of your QA strategy
Using QA to measure customer emotion
Top tips to improve quality monitoring
Winning tip – We don't share scores with agents any longer and only coach on behaviors. Scores are used for helping us recognize learning opportunities "thanks to Renee3."
Original Webinar date: 30th April 2020
Webinar Timeline
0:22: Introductions – Rachael Trickey, Call Centre Helper
3:01: Poll with results from the audience. Asking "How Would Your Advisors Rate Your Quality Scoring System?"
4:37: Daniel Ord, OmniTouch International Presentation
31:25: Take-aways from Daniel's presentation
32:22: Quiz
35:27: Top Tips, Opinions and Questions from the audience
38:53: Poll with results from the audience. Asking "What is Your Biggest Challenge with Quality Scoring?"
41:08: Tom Vander Well, Intelligentics Presentation
59:01: Top Tips, Opinions and Questions from the audience
1:02:18: Winning Tip
Panellists

Daniel Ord
OmniTouch International

Tom Vander Well
Intelligentics

Rachael Trickey
Call Centre Helper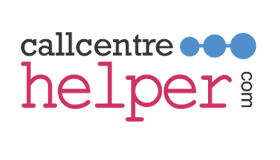 This webinar was brought to you by Call Centre Helper and is sponsored by Call Centre Helper