Webinar Date
- Thursday 18th March 2021 at 14:00pm UK time
Click here to register
It's a difficult time for contact centre advisors.
Your team need support, not only to improve their well-being, but to help them stay motivated to assist customers, who maybe feeling negative emotions.
In this webinar we will share lots of new ideas for how you can help to inspire advisors to improve their performance in our new reality and keep them happy.
And as it will be an interactive webinar, you will also have the opportunity to share tips and ask questions of the panellists and other attendees. We run an interactive chat room in parallel with the webinar.
Panellists

Nerys Corfield
Injection Consulting

Benedita Miranda
Sitel Group

Frank Sherlock
CallMiner

Rachael Trickey
Call Centre Helper
What You Will Learn
Key Topics:
Where might advisor performance be slipping?
New ways to improve advisor performance
How you can monitor and enhance employee wellbeing
Fun ways to keep your team motivated
How to emotionally engage with advisors
Top tips from the audience
---
Speaker Biographies
Nerys Corfield | Injection Consulting
Before setting up her consultancy Nerys spent 18 years in some of the UK's most responsive outsourcers managing contact centre services for clients like Volkswagen (3 years), Vodafone (5 years), British Gas (2 years), the National Apprenticeship Service (7 years) and Sky (6 years).
Since setting up Injection Consulting Nerys has immersed herself into the contact centre technology space and is an advisor, a consultant for and an assessor of vendor technologies.
This 6 year immersion into the world of contact centre technology has existed as the backdrop to carrying out regular Contact Centre audits; Transformation programmes; Judging prestigious awards like the European Contact Centre and Customer Service Awards; Chairing the DMA Contact Centre Council for 3 years and being a regular on the webinar, keynote and podcast circuit talking all things Contact Centre.
Connect with Nerys on Social Media:
Linkedin
Benedita Miranda | Sitel
Connect with Benedita on Social Media:
Linkedin
Frank Sherlock | CallMiner
Responsible for the International growth strategy and strategy execution for the Callminer's leading Speech and Text Analytics solution into International markets
Connect with Frank on Social Media:
Linkedin
|
Twitter
---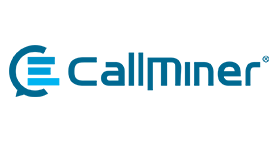 This webinar is brought to you by Call Centre Helper and is sponsored by CallMiner.
You won't want to miss this exciting webinar.


Click here to register
This webinar is held at 14:00pm UK time, 15:00pm in Paris, 16:00pm in South Africa and 10:00am in New York. A replay facility will also be available.
If you are attending one of our webinars for the first time, we suggest you arrive 10 minutes early to allow for the software to download successfully.
---
---