There's a lot to think about when you're leading a contact centre – particularly after a year in which the traditional contact centre has been turned upside-down.
You face many considerations, such as: how can we increase customer engagement? How can we better engage remote teams? How can we fix broken processes?
Fortunately, this webinar is here to highlight some of those key considerations for the year ahead, helping you to determine what you should be prioritizing, in order to best lead your team.

Agenda
Introductions – Charlie Mitchell, Call Centre Helper
Victoria Hamilton, Orange Falcon Consulting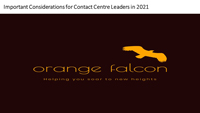 Topics Discussed
Where should you be investing your time and resources?
The new considerations for 2021
Where do your key performance gaps lie?
New findings into customer engagement
How to better utilize people, process and technology
Maximizing digital customer service and video
Top tips from the audience
Winning tip – "A tip from me would be that Ambiguity is the Enemy of High Performance so the message is to give clear targets to create that results focused culture" thanks to Paul130
Original Webinar date: 28th January 2021
Webinar Timeline
0:16: Introductions – Charlie Mitchell, Call Centre Helper
5:39: Victoria Hamilton, Orange Falcon Consulting Presentation
9:12: Poll with results from the audience. Asking "Which is Your Organization's Biggest CUSTOMER Priority?" and "Which is Your Organization's Biggest EMPLOYEE Priority?"
29:33: Take-aways from Victoria's presentation
30:58: Quiz
35:07: Top Tips, Opinions and Questions from the audience
40:17: Tim Kimber, Vonage Presentation
43:49: Poll with results from the audience. Asking "Do Your Contact Centre Agents Use Video as One of Their Channels?"
51:41: Poll with results from the audience. Asking "Post COVID-19, Will Your Contact Centre Agents Permanently Work Remotely or From Home?"
56:32: Take-aways from Tim's presentation
57:13: Top Tips, Opinions and Questions from the audience
1:01:32: Winning Tip
Panellists

Victoria Hamilton
Orange Falcon Consulting

Tim Kimber
Vonage

Charlie Mitchell
Call Centre Helper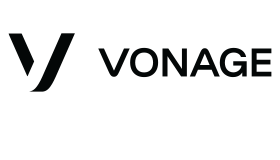 This webinar was brought to you by Call Centre Helper and is sponsored by Vonage