White Paper: Achieving Omnichannel Customer Experiences – Advanced Agent Desktops Are Key
---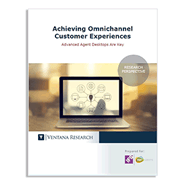 Delve into the modern-day contact centre solution with a unified agent desktop to avoid multichannel mayhem.
Read the white paper to find out how for successful customer service and seamless experiences, organisations must deploy a single view of the customer.
White Paper written by: Ventana Research for IFS | mplsystems
Click here to download your copy of the white paper.
Published On: 1st Oct 2018 - Last modified: 1st Mar 2019
Read more about - Archived Content, IFS
---