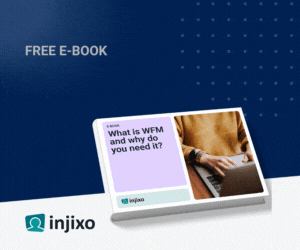 Workforce management (WFM) at contact centers is changing. What trends should planners and contact center managers keep an eye on in 2020?
Three experts at injixo bring their own unique perspective to the table.
1. Close Cooperation Between In-House Staff and Outsourcing Partners
Michael Chriske – Customer Success Manager at injixo
There was a time when the WFM world was simple… Contact centers were set up completely in-house or they outsourced (all or part of) their customer service. Even today, both approaches work well depending on your industry and your company. However, change is underway.
More and more companies are attaching importance to the cooperation between in-house staff and outsourcing partners.
This collaborative approach brings many advantages. Company-specific skills and capacities are retained, but at the same time external specialists can support in-house employees if needed. For a planner, this helps to better deal with seasonal or event-driven peaks.
The working atmosphere also improves both in-house and at the outsourcing partner.  On the one hand, the external support by outsourcers reduces the number of unwanted shifts for in-house employees. It also reduces overtime to a minimum. As a result, in-house employees can look forward to more reliable schedules.
On the other hand, outsourcers identify more closely with the business of the contracting company or contact center. This has a number of positive, measurable effects like increased productivity and a sense of responsibility. And the rising demands of customers can also be better served with such a collaboration.
All in all, if done correctly, the collaboration between in-house and the outsourcer results in a significant increase in quality of work and customer satisfaction.
As a planner or intraday manager, however, you face many challenges. Management and planning activities are becoming more complex. You have to learn to stop thinking in strictly separated processes. Instead, you have to establish an everyday cooperation with the outsourcing partner. For example, you may have to coordinate and create all the planning together. You may also have to manage intraday activities jointly.
The pricing models also need to be revised. Outsourcing partners are usually billed per minute or per contact and bonuses are paid mainly based on performance. This has to be changed. Otherwise, creative work, agreements with the in-house team and everything except hard KPIs fall by the wayside.
Despite these challenges, the trend to a closer collaboration between in-house teams and outsourcers can't be stopped. The advantages of offering better customer service in terms of quality and quantity outweigh the challenges. I have been seeing this development creeping ahead for several years now. Some pioneers in the industry are already doing it successfully.
The era in which profitability was the single focus of contact centers is coming to an end – in favor of an integrated approach with a focus on qualitative customer service with the ultimate goal of lasting customer loyalty.
2. Artificial Intelligence Will Radically Change WFM
Axel Cristinziani – Product Manager at injixo
Even though you might not want to hear it anymore: Artificial Intelligence (AI) is a key trend and does not stop at our industry. AI already facilitates the work of planners in many ways, especially in the area of WFM forecasting.
By using self-learning AI-based algorithms, patterns and trends can be recognized more efficiently and reliably. They can also determine customer-related influencing factors in ways humans cannot.
The algorithms and models used for forecasting at injixo are also AI-based. They are often much more precise than manual or semi-automated calculations, which are still widely used in many contact centers.
The workflow as a whole will also change. Today, the WFM forecast is usually created first. This is followed by the creation of the schedules. Often, the process is repeated several times for the different channels. With the development of AI, diverse data sources could be combined more intelligently in the future.
This would bring us closer to a holistic solution that has the potential to merge WFM forecasting and planning as well as to combine the planning of different communication channels in one step.
Many other calculations will become smarter, more precise and easier with the help of AI. A practical example: Today's elaborately measured or estimated KPIs, such as unproductive time (or "shrinkage"), will be more accurately predictable, taking into account various parameters. Theoretically, they could even be broken down to agent level.
Not only in planning, but also in intraday management, planners will benefit from these developments. AI will increase intelligent real-time proposals by the system. The consequence is higher performance and automation of previously tedious, manual tasks.
3. Human-Centered Design in WFM Tools
Lina Tegel – User Experience Design Expert at injixo
In times when there is a shortage of skilled workers on the job market, the agents themselves are increasingly moving to the center of attention.
Under the umbrella of Employee Experience (EX), many contact centers are increasingly focusing on employee satisfaction and retention. For product designers, this results in new and exciting challenges.
In the past, software products focused exclusively on technology; functionalities were developed and provided. For some time now, websites and applications have a stronger focus on the end-user with "user-centered design."
In 2020, this trend will increasingly influence how WFM tools are built and will lead to a simpler and more intuitive use of software. User-centered design has played an important role at injixo for quite some time now. Here are some examples from my current work as an UX designer:
Agents in open-plan offices often suffer from a noisy environment and various distractions. As a designer, I cannot change this, but I can provide an intuitive and clean tool with a minimalistic user interface. The result is performance improvements in the daily work for every user of the software.
Features that give employees more autonomy also help to improve employee satisfaction. This includes, for example, injixo's agent portal "Me," which allows agents to exchange shifts with other agents easily and quickly.
Overall, we now understand much better than in the past how users work and how they navigate in software. As a result, we can adapt our software accordingly. We are working hard to ensure that injixo adapts to each user and takes their individual environment and needs into account.
For some users, this means being able to access the agent portal quickly via smartphone. Planners, on the other hand, want to be able to see important information at a glance and easily compare data on up to 4 screens at the same time.
WFM tools should also cater for the needs of all people involved in the WFM process. For example, if new opening hours are set in the WFM tool, the planner responsible for the forecast should be automatically informed because their work is directly affected by this change. Human-centered design helps us to think more holistically and makes us consider the interests of all parties involved.
Another promising trend that is still in its infancy is "Inclusive Design." This means software is primarily designed in a way that even people with permanent limitations (color blindness, visual impairment, etc.) or situational limitations (noisy environment, little light, etc.) can make the best possible use of it.
My personal WFM trend is therefore that WFM software will become much more user-friendly. In my work on injixo, I have focused on this topic for years, and I am happy to see a development in that area.
This blog post has been re-published by kind permission of injixo – View the
Original Article
For more information about injixo - visit the
injixo Website