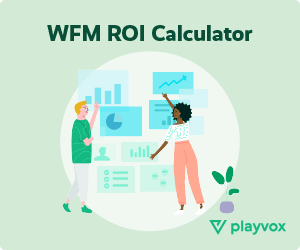 Nikki Quinn at Playvox explains how workforce planning establishes a gold standard service.
Service standards help to establish positive and effective interactions between a customer and a business. For example, in a restaurant, customers expect a level of promptness, friendliness, service-mindedness, and food-oriented knowledge.
Service quality is as important to a business as the taste of the food coming from the kitchen. No matter what kind of restaurant it is, excellent customer service is crucial to keeping it prosperous.
While there are many quantitative metrics to measure, such as how long it takes to cook a dish or the average customer wait time, identifying those intangible qualities of customer service can be a little trickier.
Ultimately, loyal customers are the key ingredient to generating revenue, and it's a great dining experience that keeps them coming back.
By maintaining smooth operations, proactively responding to customer concerns, and seeking to personalize the dining experience, a restaurant will create customer service practices that keep guests coming back.
The core principles of customer service – efficiently serving customers in a way that puts their needs first – remain universal regardless of the menu, price point, or dress code.
As businesses increasingly focus on customer experiences as a competitive differentiator, contact centres have taken centre stage. The quality of customer service experiences is a critical factor in shaping customers' opinions of a brand and driving loyalty.
Despite gains in self-service adoption, contact centre agents are still central to providing consistently satisfying CX. In fact, PwC research revealed that 82% of consumers want more human interaction in the future.
For contact centres, this makes workforce planning more important than ever. Having the right agents in place ensures customers will receive the gold standard service they value and expect.
What do we mean by gold standard service? Take Ritz-Carlton hotels as an example. The brand is synonymous with gold standard service. Their standards are even posted on their website for all the world – including customers and employees – to see.
A large part of their customer experience success is due to careful workforce planning. Ritz-Carlton knows that a key to providing superior customer experiences is hiring the right people.
They provide orientation to their carefully selected new employees on their first day to set performance expectations and introduce them to the Ritz-Carlton culture. Regular training and daily communication reaffirm the gold standard.
Contact centres need to have similarly disciplined workforce planning practices in order to ensure their agent teams are aligned to the brand's CX standards.
Improving service is an active process, one that's informed by what happens in your organization. Take time to re-evaluate, perform QA's, one-on-one meetings, training, and clarifying where applicable. Have regular team meetings to discuss the plan to keep everyone on the same page. All of these activities need to be planned effectively.
What Is Workforce Planning?
Workforce planning, also called workforce management, is the process of hiring and scheduling customer service agents based on anticipated interaction volume. Workforce planning involves three main activities:
Forecasting
Workforce management teams prepare long-term and short-term forecasts that predict volume by day, time of day, and channel.
They base forecasts on historical volume and also factor in variables that may impact volume, such as holidays and promotions. This forecasting process produces information needed for hiring plans and agent schedules.
Forecasts must be updated regularly to account for actual volume trends, a task made easier and more accurate by smart workforce management software.
Agent Scheduling
Forecasts, agent availability, contracted hours, and skill sets are the primary inputs for developing agent schedules. Agent schedules have an impact on customer experience, agent experience, and operational costs. Not enough scheduled agents will negatively impact service levels, while overstaffing is bad for the budget.
Additionally, having some flexibility in their schedules will improve agent satisfaction, which will in turn improve CX.
Agents should be able to manage their schedules from multiple devices and have the ability to specify available hours for working. What's more, manual shift changes become much more complex when you service customers via numerous digital channels.
Intraday Management
A contact centre's performance can be thrown off course by events such as high agent absenteeism or unforeseen disruptions that create higher volume. Intraday management is the workforce planning process that gets contact centres back on track for delivering gold standard service.
Intraday management tasks may include reforecasting the day's volume and adjusting agent schedules. Contact centres need to be nimble to effectively and quickly react to unplanned events, which requires the right workforce management tools.
You can't change what you can't see. Real-time dashboards enable organizations to make on-the-fly changes and take corrective action effectively. Your business evolves in real-time, and your workforce management solution should, too. Having the ability to view agent concurrency in an omnichannel world is also key.
What Is the Goal of Workforce Planning?
The ultimate goal of contact centre workforce planning is to ensure the right number of agents with the right skills are scheduled at the right times, optimizing both the customer experience and the use of labor dollars.
The performance of workforce planning can be measured by:
Service levels
Abandon rates
Occupancy rates
Utilization
Forecast accuracy
Workforce Planning Is Like Planning a Party
Workforce planning is like planning a party where you want to delight every guest. If you've ever planned a wedding or a fancy holiday party, you know that there are a lot of details to consider, ranging from selecting music to choosing a menu to developing a timeline for setup.
Party planners hope their guests have such a wonderful time that they'll be talking about the event months later.
Contact centres throw a virtual party every day. Much planning takes place behind the scenes to create experiences that customers will also rave about to friends and family.
Let's imagine we're throwing a party at the Ritz-Carlton, where gold standard service is the norm.
Don't Make Guests Wait
What guests experience when they first arrive sets the tone for the rest of the party. If the host is running late or workers are still setting up when people begin to arrive, that's awkward and some guests may even be insulted. A good party starts on time. Not all guests will be fashionably late!
Similarly, the very beginning of a customer service interaction influences the overall experience. Making customers wait for too long creates a bad first impression that's difficult to overcome.
This is why gold standard CX is impossible without gold standard workforce planning. Superior workforce planning practices will help ensure contact centres are ready for customers, no matter when they arrive.
Ensure Your Servers Are Friendly and Knowledgeable
A party experience can be ruined when servers are rude or don't know what they're doing. Think about the last time you or a friend were served the wrong food at a restaurant. It probably downgraded your experience.
On the other hand, as the Ritz-Carlton knows, highly competent employees can turn experiences from good to great.
Customer service experiences are similarly impacted by agent knowledge and friendliness. A primary way workforce planning can ensure customers are matched with knowledgeable agents is by factoring contact types and skill sets into forecasts and schedules.
This will, for example, ensure enough sales agents are scheduled to help customers place orders. Customers want to interact with agents who have specific expertise to meet their needs, not unskilled agents who happen to be working overflow.
Give Your Guests Food and Beverage Options
Have you ever been to a conference dinner where the meal choices were rubber chicken and… rubber chicken? That was a bad experience, right? Not only should party guests be given food and beverage choices, but all the options should be consistently delicious.
People have different food preferences, and some have food allergies and dietary restrictions. A good host accommodates all their guests' food and beverage needs.
Just as party guests want food options, customers want to be able to choose how they communicate with businesses. In this digital age, one-size-fits-all voice-only support won't do. Organizations need to offer a mix of voice, digital, and self-service channels to satisfy customer preferences.
And, similar to party food and drinks, all the channel options need to enable consistently excellent experiences.
What does channel choice have to do with workforce planning? Forecasting and scheduling must accommodate a multichannel/omnichannel operation. This means, for example, that workforce management tools should be able forecast volume for all channels and create schedules that have agents handling interactions from different channels in a single shift.
Gold standard service requires thorough planning, regardless of whether the event is a party or a customer service interaction. To ensure customers have experiences that will increase loyalty and lead to brand advocacy, contact centres should focus on superior workforce planning practices.
This blog post has been re-published by kind permission of Playvox – View the
Original Article
For more information about Playvox - visit the
Playvox Website