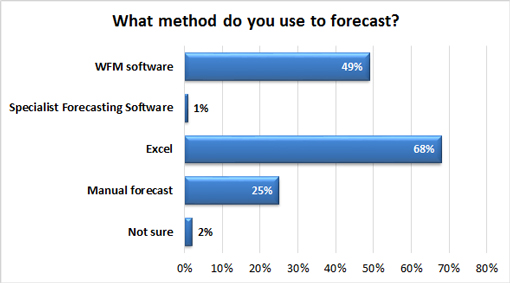 According to our poll, only one in every hundred contact centres utilise specialist forecasting software.
Instead, most other contact centres use either Excel (68%) or WFM software (49%), with some using a combination of the two.
Another option that a quarter of our survey participants use is to manually forecast, whilst 2% admitted that they are not sure how their contact centre does so.
Poll – "What method do you use to forecast" – answers
WFM software – 49%
Specialist Forecasting Software – 1%
Excel – 68%
Manual forecast – 25%
Not sure – 2%
(Multiple answers were allowed during this poll, so the total does not add up to 100%.)
Source: Call Centre Helper webinar: Forecasting Masterclass   Sample size – 182    Date: May 2014
---