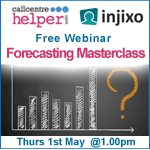 We took a peek at some of the software innovations that make it easier than ever to generate accurate schedules.
Accurate forecasting of volumes and workloads is the foundation of workforce planning.
No matter how optimal the schedules, how well we manage adherence or how engaged the agents are in the planning cycle, if the forecast is wrong, the whole planning process is undermined.
Agenda
Introductions –  Jonty Pearce, Call Centre Helper
Forecasting Techniques and Forecast Accuracy – Penny Reynolds, Call Center School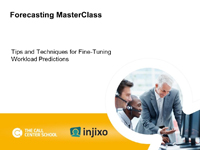 Forecasting in action – Dean Couchman, injixo
Forecasting in the Cloud – Chris Dealy, injixo
Top Tips and Your Questions
Your tips
Winning tip – "Take the frustrations generated by 'ad hoc' 'unplanned' 'unthought' actions by areas of the business.
Someone must have thought about and planned the action…who? Engage those areas and educate them on the impact of the 'unknown' and work together to make it known.
My annual resource plan is built and regularly reviewed with full input from Marketing and Propositions Teams."  Thanks to Steve2
Interactive Q&A – Live questions from the audience
Forecasting Fundamentals article
All the tips from the audience have now been turned into an article 25 ways to improve your contact centre forecasting
Click here to download our Monthly Forecasting Excel Spreadsheet Template
Topics to be discussed
Forecast accuracy
Common forecasting mistakes
Different forecasting models
Useful Excel functions
Testing historical vs forecasted data
Dealing with external events – marketing campaigns, mail drops, the weather
Eliminating exceptions
Forecasting software innovations
Cloud-based forecasting systems
Top tips from the audience
Original Webinar date: May 2014
---