Here are some fun ideas to help liven up agent workstations in your contact centre.
1. Decorate desk dividers with positive customer feedback
Positive customer feedback is a testament to your agents' hard work – and shouldn't pass by unnoticed!
Whenever such a comment arrives in your contact centre, via tweet, phone call or email, write it down on a piece of coloured card and award it to the agent responsible.
These comments can then be pinned to the dividers surrounding your agents' desks, creating an ever-growing wall of praise.
For maximum impact, hand out these comments on the same day – or even in the same hour – that they come into your contact centre.
2. Mugs add personality to daily tea breaks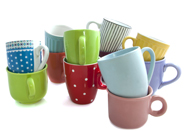 Add some personality to your tea breaks by asking agents to bring their favourite mugs into work.
This is especially beneficial in contact centres which regularly hot desk their agents, as the mug can offer a sense of ownership in an otherwise generic workspace.
3. Bring team names to life with themed decorations
Another way to give your agents' desks some colour is to bring their team names to life with themed decorations.
For example, "Team Space" could have blow-up aliens, shiny shooting stars and Lego spaceships dotted around their desks.
There are plenty of shops which sell such items at bargain prices, so it shouldn't put too much strain on the budget to bring these themes to life.
4. Awards and certificates
In-house award ceremonies are a great way to celebrate your agents' achievements.
They also provide the perfect opportunity to hand out trophies and certificates, which will decorate your agents' desks in the months that follow.
These ceremonies can be as inclusive as you like and cover everything from 'Agent of the Year' and 'Most Improved', to 'Tidiest Desk' and 'Funniest Moment'.
5. Plants can add texture and colour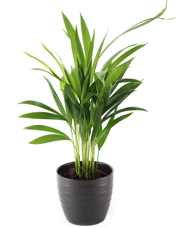 Plants are a great way to liven up your agents' desks with texture and colour. They also have the added bonus of keeping the air clean by refreshing it with oxygen.
Whether you stock up on a variety of basic house plants, ask your agents to bring their own, or even provide pots and seeds for an in-house growing competition, plants are a great addition to the contact centre.
6. Be more creative with your memos and help sheets
Memos don't have to be black and white – and boring!
If you regularly send out memos and help sheets for your agents to pin up around their desks, try letting your HR team loose on Photoshop to liven them up a bit.
Even just printing them on coloured paper, or including an image, can make the world of difference.
This fresh approach should help to brighten up your agents' desks, as well as make important messages more memorable.
7. Mouse mats add personality without compromising on space
Encouraging your agents to bring in their own mouse mat is a great way to help personalise a desk without compromising on space.
There are a variety of designs to choose from, from creating a personalised one online, to buying one featuring a favourite cartoon or television character.
Mouse mats can also be moved easily from desk to desk – making this a great way to personalise a workstation, even if you do hot desk your agents.
8. Goldfish can make a desk more vibrant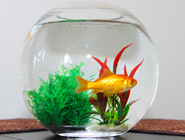 Introducing goldfish as desk pets is another way to liven up an agent's workspace.
They are vibrant yet quiet – and can also have a calming effect on your agents.
9. Photos are great for decoration… and smiles!
Encourage your agents to pin photos of their friends and family around their desks, as this can add a splash of colour to a dull workstation, as well as generate a smile or two.
Help keep their collection up to date by hiring photo booths for company events.
10. Thank-you cards are both colourful and meaningful
Thank-you cards can make both meaningful and colourful additions to your agents' desks, especially if they are handwritten by a team leader.
These cards can be handed out randomly on merit, or as part of an Agent Appreciation Day – which you can host monthly, quarterly or annually, depending on personal preference.
Birthday cards are another great way to add a bit of cheer to the contact centre – just make sure you don't forget anyone!
Do you allow your agents to personalise their desks? Have you tried any of the above?