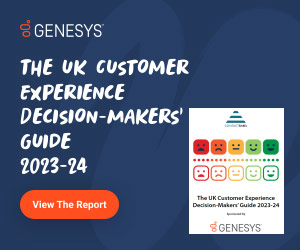 Here are some great ways to personalise your customer interactions and improve the customer experience.

1. Integrate your contact centre with your CRM system
The starting point for personalisation is to integrate your contact centre with your CRM system so that you can screen-pop customer details when they make contact – and your agents can know them!
Advisors should also be able to see all prior interaction history in one place, and have ready access to an appropriate knowledge base so that they can quickly solve your customer's problem.
2. Value your customer's time – and don't waste it!
Another way to personalise and improve the customer experience is to understand the value of your customer's time – and not waste it!
The ideal approach is to have all of your agent's tools in one desktop application to avoid the hassle of 'Alt-Tab-Hell', where advisors have to toggle between multiple desktop applications to get at the information they need.
With thanks to Richard Pinnington, Head of UK&I Marketing at LiveOps UK
3. Use CLI recognition to route your customer to the same agent every time
Although it isn't always the most practical approach to call management, CLI recognition can try to route calls from the same CLI to the same agent each time.
4. Ensure your agents can greet your customers by their preferred name
CLI recognition can also enable greeting "styles" to be set by the call agent for a new caller.
When a call comes through, the "script" can then indicate if the caller should be referred to as Mr Smith, Sir, Admiral, John or even Smithy.
5. Include prompts which inform the manner of the call
Another way to enhance personalisation is to attach prompts to each customer's CLI which indicate the telephone manner the agent should adopt for that particular customer.
For example, when Mr Smith calls through, the CTI screen-pops with a black border indicating a sober, demur greeting style.
While for Mrs Jones, the CTI screen-pops with a bright blue border indicating a warm, friendly, empathetic greeting style.
The main drawback with this approach is that it does require agents to make decisions with new callers as to what colour to set. Also, there is a temptation to have too many colours, which can make new agent training more difficult.
With thanks to Susannah Richardson, Marketing Director at mplsystems
6. Route calls and messages to the most appropriately skilled agent
Rather than allowing customers to be passed from pillar to post, intelligent technology can route calls and messages to the most appropriately skilled agent.
Using CRM interfaces, agents can gain access to customer information at the beginning of the interaction, putting them in control from the outset.
As well as having access to relevant information without needing to question the customer, agents will be better equipped to respond to a complaint or take a call to a successful conclusion.
Likewise, in transforming and personalising the process of customer engagement, enterprises will make consumers feel more valued.
With thanks to Richard Farrell, CTO at Netcall
7. Empower your front-line staff
The key to really successful personalisation and creating a great customer experience is about making each customer feel valued as an individual.
Technology can be a great enabler here, particularly now the cloud brings sophisticated features within easy reach of every contact centre budget, but make sure you use it to empower your front-line staff rather than impose rigid working processes upon them.
It's vital that your contact centre technology provider gives you the flexibility to adapt and keep pace with customer preference.
8. Make sure your agents have the caller's history at their fingertips
Make sure your agents have the caller's history at their fingertips so they have the information they need to demonstrate an understanding of the customer's needs.
Flexible scripting tools will also guide them through interactions with the kind of empathy that builds long-term customer satisfaction and loyalty.
9. Set different announcements and music based around the person calling
You can also personalise the call queue for customers.
No one likes to queue, but cloud-based software can allow you to set up menus, queue priorities, and play different announcements and music based upon number dialled or the person who is calling using our web-based call-flow editor.
10. Focus on metrics like First Call Resolution
It's important to track how you are performing too.
Make sure your contact centre KPIs reflect the importance you place upon personalisation by focusing on metrics like First Call Resolution.
With thanks to Mike Donohue, Sales Director at Magnetic North
11. Provide different numbers for different products
Use different phone numbers for different brands, products and marketing campaigns and flag this to the agent as the call is presented.
This way they'll know what the customer is interested in and where they came from without having to ask.
12. Use tracking software to make use of your customer's recent website activity
Use tracking software to link the caller's web session to the agent so the agent knows what the caller has been/is looking at on your website as the call comes through.
You should also enable screen sharing technology, so your agents can show your customers alternative products or details on their web screen.
13. Agents can stay in the conversation with 'Keypad payment by phone'
Using 'keypad payment by phone' (for PCI-compliant card payment) in mid-call will allow the agent to stay in conversation with the customer as they enter their card numbers for authorisation using their own phone keypad.
This creates a far better experience than having to push the caller off to an impersonal IVR payment system or to pay on the website.
With thanks to Simon Beeching, Director at Syntec
14. Mirror the face-to-face experience
The online shopping experience needs to mirror the experience you would get in a store: talking to the customer, engaging with their needs, having a conversation with them to find out more about what they are looking for.
It's all about building a personal profile of the customer – and this means integrating your contact centre customer information with your marketing across multiple touchpoints – from webchat to email, across to text as well as voice.
15. Use targeted and proactive webchat
Using targeted and proactive webchat can be a great way to provide proactive and precise assistance at the consumer's point of need.
It can also reduce call handling, help to maintain customer loyalty and boost retention.
16. Keep a profile of the customers you speak to
By keeping track of your engagements with customers (from how often they call to recent purchases and complaints), you can deliver a truly personal experience.
This is because your agents will be able to talk to them about previous interactions or purchases they have made, as well as make sure that any complaints have been dealt with and responded to in the appropriate manner.
17. Use the data you have to create an enjoyable experience
Personalisation is much more than just welcoming back a returning customer or asking them how they are today.
It is about using the data you have to create an enjoyable experience that encourages the customer to keep returning to you.
With thanks to Richard McCrossan, Strategic Business Director at Genesys
18. Use guiding prompts rather than entire scripts
Be a human not a robot! Try to use guiding prompts rather than entire scripts – which make it very difficult to sound knowledgeable, confident and engaging, potentially turning off customers or prospects.
Personalising each call and building some rapport with the customer can also significantly improve the experience and make them feel more important.
19. Get callers to the right advisor first time
Instead of answering your callers and then finding out what they need, use the information you already hold on your customer to present them with personalised options that get them to someone who can help them.
By reducing transfers you also free up advisors to deal with new callers.
20. Offer self-service for simple queries
If you want to confirm that a package has been shipped or check a balance on an account, it can be useful to self-serve and avoid the need to speak to an advisor.
Customers get the information they're looking for, and their experience is a more efficient and personalised one.
What's more, agents are freed up and can spend more time focusing on more complex enquiries or handling new business.
21. Do something your customers won't expect
For a truly exceptional service which will leave a lasting impression, go the extra mile and do something your customers won't expect. For example, include a personal note in a delivery, send a thank you card or a box of chocolates… Even a coupon for their next shopping experience with you will help them feel rewarded.
Think about your customers and what they need, as well as how you can exceed their expectations. The ripple effects of an outstanding, personalised experience extend beyond satisfaction and retention.
It distinguishes your brand, builds repeat business and improves employee morale.
With thanks to Jonathan Gale, CEO at NewVoiceMedia
How do you personalise your customer interactions?