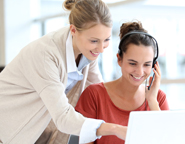 Jason Napierski explains how you can establish a culture of connectedness in the contact centre and improve employee engagement.
"The customer is always right."
We all know the phrase. It's typically used to remind customers that their satisfaction with a company, product, or service offering is the company's highest priority.
But let's face it: Working in customer service can be hard. Between disgruntled customers, a high-pressure work environment, ambitious performance targets, and workplace distractions, it's no surprise that contact centre turnover is notoriously high. Statistics, in fact, show agent attrition rates can be as high as 20–30% annually, which may also be a contributing factor to what often becomes subpar morale in the contact centre.
It doesn't have to be this way.
By making employee engagement as high a priority as customer satisfaction, contact centres can establish the type of connected culture that inspires employees to stick around for the long haul. Not only that, but a positive workplace culture can also help to attract and retain new talent.
1. An office to call home
Whether agents realise it or not, the actual work environment plays an important part in establishing a cohesive workplace culture. In other words, employees have to feel like they're working in an environment that allows them to thrive – as opposed to one that impinges on their performance.
Of course, what appeals to one employee may interfere with another's concentration and acuity (i.e., some may prefer an open layout while others may feel better able to work in areas free of noise and distractions).
In order to strike a balance between the needs of both introverts and extroverts, Joe Ziemer, Communications Manager at investment startup Betterment, says his company features a variety of work environments. At their desks, employees can easily turn to one another and ask questions, but there are also "breakout rooms" for quiet space and "call rooms" for quiet work and calls.
2. Regular performance feedback
Think about it for a second: What is the single most important factor for driving employee engagement in the workplace?
Feedback on the work employees are doing. Without it, agents aren't just in the dark about their performance, they're also less likely to care about their work because they may feel that no one is keeping tabs on them.
Providing contact centre agents with regular performance feedback shows them that managers care about the work they're doing and are committed to helping them reach (or even exceed) professional goals. With CallMiner's myEureka software, for example, agents receive performance feedback in real time, which can motivate them to improve performance while the call is still ongoing.
3. What ever happened to a little fun?
"Work has to be all work and no fun," said no one, ever.
One of the best ways to establish a culture of connectedness around the office is to take the time to just have a little fun! It doesn't have to (and shouldn't) be to the extent that employees are distracted enough that the actual work isn't getting done.
But celebrating individual accomplishments or team milestones with a pizza party or company outing (karaoke, baseball game, laser tag, etc.) can be a great way to establish workplace camaraderie.
The customer service industry might be challenging at times, but that doesn't mean that employees can't band together to improve performance and the general mood around the office.
With thanks to Jason Napierski at CallMiner
---