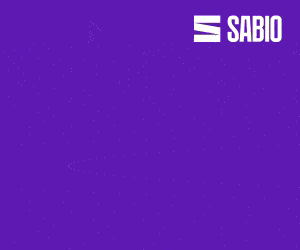 Stuart Dorman at Sabio outlines eight steps to CX transformation in 2023.
As we kick off 2023, our New Year's resolution here at Sabio remains the same as it has done for the last few decades; helping organisations to harness the power of cloud platforms, AI and automation, and powerful customer insight so that they can deliver great customer experiences.
And while technology alone is never the answer, there's never been a better time for brands to transform their contact centre operations.
But with challenging market conditions an increasing factor for all of us, it also makes smart sense for CX teams to make sure they're getting the best value out of their contact centres.
To that end, here's Sabio's view on our top 8 actions that customer service teams need to consider to help optimise their 2023 performance.
1. Audit Your CX Tools
With technology offers around CRM, CCaaS and AI all converging and potentially overlapping, it's important to think twice before adding new capabilities and services to your contact centre technology portfolio.
The reason for this is that there's a strong chance you may already be paying for this functionality on one of your existing platforms.
Nobody wants to be paying twice for functionality, particularly given today's market conditions, so now would be a great time to audit exactly what services you have in place before scoping out any potential further additions.
2. Tighten Up Your Workforce Optimisation
Have you done a planning audit recently? Having the right resources in place at the right time remains critical for contact centre teams.
That's why avoiding optimisation drift should be a key focus for organisations in 2023. Sabio's decades' long experience means we know exactly how to help you get the most from the latest workforce optimisation solutions such as WFM and speech analytics.
3. Work Your Data in 2023
Whether it's digital voice, chatbots or conversational AI, you're already gathering significant volumes of data – types of interaction you're receiving and customer preferences.
But while many recognise the potential value that's stored within this data, very few are currently successful in bringing much of this unstructured information together.
For example, simply categorising different contact types correctly can make a huge difference when it comes to scheduling advisors to meet demand levels.
But data still needs to be made much more accessible, particularly given that siloed data stored across other business systems is a key reason behind customer journey frustrations.
4. Empowering Your People to Deliver Excellent CX
With everyday workloads increasing in complexity, it should be no surprise that around a third of contact centre advisors feel acutely stressed multiple times each week.
In 2023 it's incumbent on CX leaders to ensure that advisors aren't faced with poor supporting technology, frustrating gaps in customer journey, and no empowerment.
At a time when advisor attrition rates remain concerningly high, it makes even more sense to focus on providing the support and empowerment to help retain your people.
5. The Hyperscalers Are Coming
2022 saw both Google and Microsoft announce their intentions to enter the CCaaS market, with both vendors currently focused on building out their strategies in this sector.
They join Amazon and Salesforce in this already competitive space, and it's clear the advent of the hyperscalers will have an impact on current CCaaS propositions.
We're already working closely to evaluate these hyperscale propositions and are excited to share the benefits of these platforms with customers across our industry.
6. Democratisation of AI
We're moving quickly to the point where almost every customer interaction will soon be fronted by AI in some shape or form.
And, while many organisations have already benefitted from first wave AI with conversational AI and intelligent chatbots automating many simpler transactional requests, expect 2023 to usher in a new wave of AI-powered functionality.
This should include surfacing insights from data at key times, real-time support for advisors, and the automated summarising of customer calls.
7. Unlocking Cloud Innovation
Despite all the focus on CCaaS, it's often surprising to consider how many contact centres are yet to transition operations to a cloud platform.
However, for organisations considering making this move in 2023, it's important to remember that cloud initiatives should be all about innovation powered by the kind of agile principles and development methodologies that you need to be delivering continuous change.
Simply replicating your existing legacy contact centre platform within a cloud doesn't really change anything.
8. Quantifying Digital Innovation Success
For organisations that are able to unlock the power of Digital First, the potential value can be transformational.
However, while it's vital to focus on how this helps to deliver excellent customer experiences, it's also essential that brands understand how effective their digital strategy is in business terms.
Hardly anyone is successfully measuring digital's impact on contact centre demand, and this oversight will become even more noticeable in 2023.
For more information about Sabio - visit the
Sabio Website