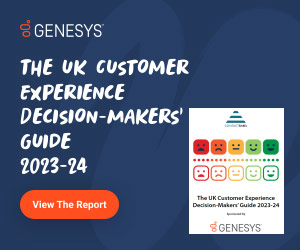 When we think about transforming customer experience, it's easy to assume it's expensive, resource intensive and takes years to do.
In this article, Paul Pember dispels those assumptions by sharing six "pick and mix" low-effort and low-cost, practical and proven ideas to transform customer experience, regardless of the sector and size of your organization.
The ideas range from introducing the concept of marginal gains, building your customer experience code, or developing customer experience case studies to drive action to designing 12-week sprints.
Six Steps to CX Transformation
One: The 1% Challenge
The concept of marginal gains has been around for over a decade and became popular following the success of the British Olympic cycling team in 2008.
The 1% challenge takes the marginal gains theory of consistent, regular, and small improvements by translating it into a customer experience context.
The 1% challenge can be a great tool to engage, empower and create energy across the organization. It helps get non-customer-facing teams involved and thinking about customer experience, and how they indirectly impact and improve customer experience.
The 1% challenge encourages everyone to take ownership and accountability for their improvement ideas, and for this to be successful it's useful to have a lead who can coordinate ideas, resources and support to deliver the improvements.
Top Tips to Making the 1% Challenge a Success:
Try to get everyone in the organization involved: for the challenge to be fully effective, the more people that get involved, the better.
Pick some early quick-win ideas and deliver them: this helps build momentum and gain buy-in from people who didn't initially engage with the challenge.
Give the 1% challenge profile: most initiatives fall away after a few weeks/months. Therefore, build a clear communication and engagement plan that keep all teams updated on 1% ideas and celebrating progress.
Identify a 'Champion' or 'Lead' who can coordinate and drive the 1% challenge across the organization. This doesn't need to be someone's full-time role.
Two: Employee Engagement
It's well known that employee engagement is one of the key drivers of customer experience, with the general rule being the more engaged your workforce are, the more likely it is that your customer experience measures will positively correlate.
Therefore, it's critical to have employee engagement in the mix of any customer experience transformation. A solid starting place is gaining insight and feedback from your workforce to understand what factors are impacting their engagement and motivation.
This will produce valuable insights on topics such as the working environment, leadership, communication, tools, processes, and culture.
From a customer experience perspective, focus on what causes friction and high effort for your workforce, as many of those friction activities are no doubt impacting customer experience delivery and equally causing effort and friction for customers too.
Top Tips for Achieving Great Employee Engagement:
Take the time to understand your teams' barriers: one way to do this is through a survey – this will enable you to be data-led on the key areas that are impacting staff engagement. You might want to do further in-person discussion groups to go into more detail on specific areas.
Create environments where employees can deliver for customers, including the onboarding of new team members, allowing coaching, and learning time for staff to build and improve their skills and ensure that technologies and processes support the teams to improve customer satisfaction.
Empower teams to innovate new ideas and focus on building an enabling culture where staff feedback is valued and acted upon.
Introduce a customer experience section within your employee survey to gain their insight on topics such as: how much they believe the organization cares about customers, how much they understand customers, how they use customer insight in making decisions in their role.
We address the thorny question of how to measure engagement in our article How to Calculate an Employee Engagement Score
Three: Develop Your Customer Experience (CX) Code
It would be great to be in every conversation, every meeting across your organization, to continuously drive the customer's voice across the organization, but that would be impossible. This is where the Customer Experience Code comes in – a set of principles developed through customer insight.
Video: What Is the CX Code?
When Paul Pember was a panellist on our 2022 webinar 'How to Transform CX' he explained the Customer Experience (CX) Code. Watch this video to find out more:
The purpose of the CX Code is to be an easy-to-understand tool that can be picked up and embedded across the organization when designing services, products, processes, and journeys.
The Customer Experience Code will vary depending on the context of your organization, but through insight and analysis it should aim to act as the customer's spine across the organization.
It's easy to track and monitor your customer satisfaction scores or NPS. However, it's critical to get underneath this by identifying and understanding the drivers impacting your customer experience score.
This is all about working smart and not just hard, by analysing your insights, understanding your customers, and developing your key drivers.
This is important as it enables organizations to direct focus, resources, and energy on enhancing these drivers. This will lead to better prioritization and the ability to say 'no' based on evidence from customer insight.
Definition: "Key Drivers – activities, behaviours, expectations and needs that have the greatest impact on your customer experience"
Top Tips for Developing Your CX Code:
Ask your customers what matters most to them.
Analyse what customers are telling you through all insight channels – complaints and customer satisfaction verbatim comments are the best starting point.
Compile buckets of common themes and trends – what stands out from your analysis?
Develop your key drivers: pick 3-5 as they need to be specific and easy to remember.
Share and embed the key drivers across the organization. This helps increase everyone's understanding on what matters most to customers.
Four: Developing the Customer Voice
Put simply, your customer voice model is about listening, learning, and acting on customer insight.
The customer voice is a model that describes bringing together all your customer insight, analysing, synthesizing, and producing a clear, focused and easily understandable customer voice that describes how customers view the organization.
This can be split into an organization view, service, or product view or even customer segmentation view.
The key aspect of a customer voice model is the 'action' that comes from the insight. It's vital the model supports the organization to better understand customers' needs and expectations and provides the organization with actionable insights.
Top Tips for Developing Your Customer Voice:
Identify the different areas within the business that would have customer insight; for example: contact centre, satisfaction surveys, complaints, self-service/website, and social media.
Engage and gain buy-in from the organization to understand what the customer voice means and draw the link to how it can support the delivery of corporate strategy aims.
Pilot in one service/product area – this test and learn approach will enable you to make mistakes in the shadows and develop the model using real insight.
Five: Customer Experience (CX) Case Studies
The CX case study is a concise, quick, real-time insight activity focused on a single customer's experience with your organization. It can be a case study on both positive and negative experiences, to demonstrate the best and worst of your organization.
These case studies are meant to be low effort and low cost – investing up to one day to create and on three sides of A4, maximum.
Conducting these deep dives into real customer experiences can provide invaluable insight into their customer journey and provide lessons that can be implemented quickly. The key benefit of case study over data is the power of stories.
This can help influence and gain buy-in from executive teams when trying to secure investment to ignite action and enable improvements to occur.
Top Tips for Developing CX Case Studies
Develop your CX case study template with these sections: Set the context (including the customer journey), Customer and business pain points, Lessons Learnt – how do we prevent this situation in the future? And the "perfect" customer journey.
Share the CX case study with the organization, through spotlight events or ensuring it's on the agenda in team meetings and senior management board meetings.
Emphasize the 'next steps' – the case study is there to ignite action, so develop specific and measurable improvement actions that will prevent the situation from recurring.
Six: Develop a 12-Week Customer Experience Sprint
Do you have a never-ending service improvement action plan? The 12-week sprint is a method to ensure you move strategy into action, through a focused delivery of a set number of priorities. The model enables more effective prioritization, resource planning and transparency.
This method enables teams and organizations to be less reactive and not just focus on the newest issue of the time.
Top Tips for Developing 12-Week Sprints
Don't try and solve the world – pick four to six priorities that can be started and completed within 12 weeks. Therefore, more complex or long-term projects will need to be split into bitesize activities.
Get front-line advisors and colleagues from different teams involved – a great way to improve team engagement and enhance your diversity and inclusion by actively inviting everyone to get involved.
Give it publicity – build a visual one-pager outlining your 12-week plan priorities and gain engagement and buy-in from your organization and key stakeholders.
Thanks to Paul Pember, a customer service specialist, for putting together this great article.
To read more insights from Paul, read these article next: