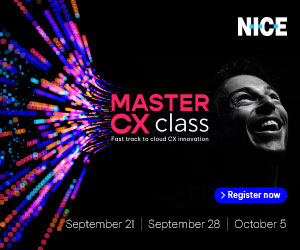 NICE has announced another NICE Enlighten AI breakthrough innovation – the infusion of AI with NICE Satmetrix Voice of the Customer.
NICE Enlighten AI Feedback powers organizations to identify and then turn at-risk customers into loyal net promoters by automating and deploying real-time hyper-personalized, contextual, conversational surveys at scale.
Enlighten AI Feedback vastly expands closed loop efforts, quickly resolves customer issues, and prevents churn – all while preventing costly repeat calls from unsatisfied customers.
Contact centre leaders are charged with improving satisfaction and loyalty while increasing operational efficiencies, but they lack the right tools to take agile action with at-risk customers – especially high value customers – to efficiently and quickly resolve their issues.
Enlighten AI Feedback addresses this by expanding upon NICE Satmetrix Voice of the Customer using out-of-the-box AI models to proactively achieve even higher levels of customer satisfaction and loyalty with reduced time and effort, and increased accuracy – at enterprise scale.
"Today, firms learn causes of customer churn after losing their clientele. Modern contact centres don't need to pay such a high price of frustrating or losing their clientele.
Contact centres using AI capabilities achieve 2.3x greater improvement in first contact resolution rates, 3.5x greater annual increase in customer satisfaction rates, and an 11.5x greater annual improvement (decrease) in service costs," said Omer Minkara, Aberdeen Vice President & Principal Analyst.
New consumer habits and new journeys rooted in our digital environment are here to stay. As a result, consumers are reaching out to contact centres for more reasons than ever before – during online research, while making purchases, with post purchase inquiries, and for renewal.
And, consumers are interacting in more channels than ever before – including online chat, text, and social messaging, in addition to voice and email.
According to a recent NICE survey 92% of contact centre decision makers saw increased interactions volume. Further, NICE saw in 2020 a 100% year-over-year increase in its customers' digital interactions volume.
Today's digital first customers can voice their dissatisfaction to potentially millions in just seconds, and switch brands with one simple swipe. Customer loyalty has never been more tenuous. In fact, 84% of consumers say they are likely to switch brands after one bad customer service experience.
That's why it's more important than ever that organizations of all sizes empower customer service with an AI-powered holistic Voice of the Customer program. To boost satisfaction, enhance loyalty, and reduce churn – while creating impactful experiences that protect and differentiate their brand.
Enlighten AI Feedback, the infusion of Enlighten AI with NICE Satmetrix Voice of the Customer:
Listens to and interprets 100% of interactions to transform subjective behaviors into objective insights without bias, using no human effort.
Eliminates the need for human listening to understand agent performance and identify customer churn threats, while providing more precise information.
Based on the context of the interaction, deploys real-time hyper-personalized, contextual, conversational surveys that expand closed loop efforts to improve customer satisfaction and increase lifetime value.
Uses pre-trained models that drive proactive, predictive, and prescriptive action to improve operational efficiency of closed loop efforts at scale.
Accelerates agile actions to resolve customer issues and prevent churn.
"Enlighten AI Feedback is yet another market-first offering from NICE that demonstrates our continued commitment to infusing AI and automation across our complete portfolio," said Barry Cooper, NICE Enterprise Group President.
"With this latest innovation that leverages NICE Enlighten AI out-of-the-box predictive behavioral models, companies can now proactively identify unresolved customer issues and act on them to provide extraordinary service and retain high-value customers."
Mr. Cooper continued, "As part of a holistic Voice of the Customer program, Enlighten AI Feedback identifies CX blind spots and enables organizational agility to close the loop.
With that, it delivers what customers want and expect: informed conversations that are frictionless, hyper-personalized – and help resolve their problems quickly and easily."
NICE Satmetrix Voice of the Customer powers enterprises to combine and analyze millions of customer interactions, solicited feedback, and operational data to uncover blind spots, increase customer satisfaction, and improve agent performance.
The world's leading Voice of the Customer solution for organizations that rely on the strategic value of the contact centre, NICE Satmetrix Voice of the Customer enables companies of all sizes across the globe to act on feedback and transform the customer experience at scale.
A holistic solution unified with CXone and the NICE portfolio, NICE Satmetrix Voice of the Customer delivers superior analytics to operationalize feedback on the frontline and across the comprehensive customer journey.
For more information about NICE - visit the
NICE Website