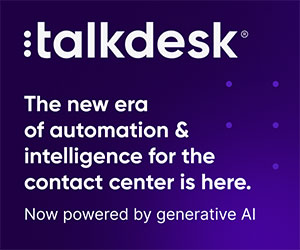 Celia Cerdeira at Talkdesk explains how AI knowledge management benefits your business.
Quick, concise, and accurate answers to customer questions reigns supreme in the world of contact centres.
At the same time, traditional contact centre knowledge management systems are outdated—they simply weren't designed for the volume, pace, or high customer expectations of the modern digital era.
Contact centres can leverage internet search techniques, machine learning, and AI to become information-oriented environments, capable of serving and delighting customers faster and easier than ever before.
Organizations interested in understanding their customers on a deeper level and improving CSAT can drive better customer experience outcomes by leveraging the winning combination of frontline experts and artificial intelligence (AI).
Businesses must move away from lagging document management systems toward fully-integrated knowledge management systems designed for the modern customer experience era. I invite you to learn more about AI-powered knowledge management and how it can greatly improve the effectiveness of information retrieval.
What is AI Knowledge Management?
An organization's knowledge management system (KMS) is arguably one of the most valuable tools available to contact centre agents and internal employees. When customers reach out for support, agents rely on these systems to navigate and resolve issues quickly and efficiently.
We know that delivering answers to customers quickly and correctly is a constant goal. This is why knowledge management systems are such an integral asset for organizations.
Agents need easily searchable knowledge systems and straightforward answers so that customer issues can be resolved as quickly as possible.
Machine learning and AI introduce powerful benefits. Pattern recognition, deep insights, federated search, and information derived from AI strengthen a business's ability to fully leverage their contact centres and knowledge repositories.
Ultimately, AI-powered knowledge management enables businesses to move from static processes to dynamic processes that give customers (and agents) exactly what they need, when they need it.
The Connection Between Conversational AI and Knowledge Management.
Simply put, conversational AI uses interaction intelligence, like intents, to find the relevant information to answer questions asked by humans.
The goal is to provide agents with answers rather than a list of articles. This eliminates the need for agents to search through outdated systems, dense articles, or other irrelevant information to find what they're looking for.
Not only can busy agents find information faster, they can author answers to customer queries based on their experience handling customers' queries.
Agents can play a key role in growing, refining, formatting, and orchestrating information tapped by AI. It's true, AI is capable of learning from the expertise of contact centre frontline staff.
The combination of conversational AI and frontline employee contributions fosters a dynamic and unified knowledge environment.
Consequently, organizations end up with a highly-valuable intellectual asset, and contact centre agents and AI work in tandem toward a common goal–a customer-centric experience.
How Does AI Knowledge Management Allow Businesses to Deliver Superior Customer Experiences?
Organizations face significant challenges when it comes to unifying disparate channels of communication. AI-based knowledge management systems provide a single source of truth for all channels.
The system is unified, accessible, and seamlessly integrated eliminating gaps that contact centres have historically struggled to overcome.
When it comes to chatbots, AI knowledge management shines. AI-based knowledge management systems enable more sophisticated chatbot and voicebot experiences to provide human-like assistance to solve customer queries.
After all, AI is trained to discover, and relay the most relevant information as quickly as possible. This leads to effortless self-service experiences for customers and alleviates pressure on contact centre agents.
Benefits of an AI-Powered Knowledge Management System.
Internal knowledge availability will always be crucial to customer satisfaction. Lack of knowledge, or poor knowledge management systems may lead to customer churn.
When customers navigate a website or try a new product or service, accurate and easily retrievable information helps agents and employees build trust, confidence, and a satisfying customer experience.
With AI-powered knowledge management, internal knowledge management teams are empowered to contribute their first-hand expertise to the knowledge base.
Frontline employees have the opportunity to help build the knowledge base they want to use while AI helps customers help themselves.
An organization's knowledge management system has a significant impact on agent performance, it helps reduce AHT, training costs, and attrition.
In addition, it's a resource that provides self-service information and gives agents an efficient way to source answers from content stored in different locations.
Search capabilities are a critical component of any knowledge management system, and yet the search function of many systems returns poor results.
This isn't because of poor technology, but rather because the search function didn't anticipate the correct user behavior.
The best search engine will likely fail if its implementation is based on something other than the ways users think and talk.
Every organization and customer community is unique. Over time, AI knowledge management systems are designed to scale and evolve along with organizations and their customers.
Today, there's a significant opportunity to improve customer satisfaction and customer retention with AI. And this is just the beginning.
This blog post has been re-published by kind permission of Talkdesk – View the
Original Article
For more information about Talkdesk - visit the
Talkdesk Website