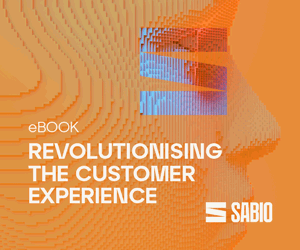 Gary Pipes at Sabio explains that voice is now a digital user interface (UI), and innovative businesses are digitising the voice channel to help them meet their strategic goals for customer service – including automation.
To deliver effective automation through AI, businesses must build foundational data on why customers are contacting them, as preconceptions around why customers call can be misleading.
Over a third of all customers prefer to use a voice channel when they get in contact with a business. And no wonder – studies have shown that an occupied mind perceives time passing faster so a spoken conversation can feel more fast-paced or immediate.
For the same reason, when customers get in contact with a business they have no appetite to sit around and wait. One of the great failings of voice channels in the past has been extended wait times.
Historically, the main challenge for voice was that it was expensive and inefficient to run. In addition, customer intent data was obscured, meaning that the path to improving the channel could only be guessed.
Businesses with modern contact centres need two key things to improve the voice channel: clear insight into conversation data and the careful use of automation.
Leading customer experience and digital transformation specialists can offer a service that helps businesses understand their customers' requirements within their contact centres and build better solutions to improve them. We call this Intent Capture & Analysis (IC&A).
This programme surfaces insights into customer behaviour – key data that organisations had only been guessing at before: specifically, the exact reasons as to why their customers were calling in. Before using this service, we found that many of our clients were using a limited set of options to categorise intents, meaning that they were missing key insights into customer behaviour.
By equipping them with accurate and detailed data about what was actually going on inside their contact centres, it enabled them to focus their attention on building new features that will have the biggest impact.
By capturing customers' intents and categorising the reasons for calling, you can build rich insights that will help support business decisions.
Typical outputs gained from an Intent Capture and Analysis (IC&A) programme includes being able to:
Surface insight and metrics for the reasons why customers call
Categorise customer contact and create deflection and automation opportunities
Demonstrate basic non-integrated customer service automation
Support business planning and strategy for digitising the voice channel
Identify patterns and trends to highlight where service can be optimised
Collect data to support business decisions whether operational or technological for improving efficiency
Build foundation data to support an AI (or Automation) strategy
The data gathered during an IC&A programme becomes the foundation of a proof-of-concept (POC) that demonstrates the capabilities of an automated solution. It highlights the time-wasting processes that you could unburden human agents with.
AI & Automation experts can help organisations build automated processes that can handle the requests in a much more cost and time-efficient manner, helping you capture customer intent while building rich insights to support your business decisions…
For more information about Sabio - visit the
Sabio Website