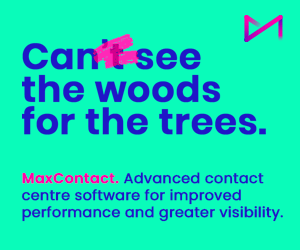 Tracking individual agent performance, customer experience, and team performance is vitally important for business success.
There are so many different metrics to choose from, so we asked our panel of experts for the best metrics for contact centre performance tracking.
Abandoned Call Rate
Customers are losing patience. Most customers today will hang up after waiting more than one minute for a call to be answered.
The "Abandoned Call Rate" metric measures the number of times customers give up on a conversation before an issue is resolved. While it's typically used for voice interactions, it can also measure people giving up on chat or video conversations.
Various factors can contribute to a higher abandoned call rate, from lack of access to enough trained professionals in your team to complex contact centre technology. Sometimes, agents don't have the information they need to resolve issues quickly, leading to long queues.
Thanks to Geomant
Agent Turnover Rate

To develop a successful CX strategy, it is important to analyse multiple CX metrics, both in agent performance and customer satisfaction.
However, according to our recent CX Metrics Gap Report, we found that "when agent turnover rates are less than 15% per year, CSAT increases by 26%."
Therefore, moving forward, it's important for CX leaders not to lose sight on the importance of employee engagement and happiness.
We believe technology plays a huge role in retaining employees. According to Jive's recent study, "60% of failed attempts at first call resolution are due to an agent's inability to access the right data."
Therefore, contact centres should always provide tools to simplify work for agents and make them more efficient, to reduce stress and agent turnover.
Thanks to Andrea D'Anselmo at Five9
Average Handling Time (AHT)
Many feel uneasy at the mention of average handling time (AHT), as some managers have historically employed the measure as a stick to beat agents. In doing so, they hoped to lower handling times and – consequently – costs. At least, that was the theory.
Yet, when targeted on AHT, agents rushed through calls. As a result, employee engagement, first call resolution (FCR) and customer satisfaction suffered.
Therefore, many leaders shifted their focus, leaving AHT in the hands of the workforce management (WFM) team. However, handling times hold valuable secrets, often highlighting process failures, knowledge gaps and coaching opportunities.
Therefore, digging into AHT is a potential goldmine. Of course, the metric should not return as a target.
However, introducing a quality management solution may make the difference, uncovering trends that drive high handling times with embedded analytics. It also allows leaders to assess agents that achieve both excellent AHT and satisfaction rates to pinpoint best practices.
Thanks to Paul Day at Calabrio
Conversion Rate

The conversion rate is a crucial metric for an outbound sales or marketing call centre. It has a direct impact on the bottom line and is supported by other metrics like customer satisfaction (CSAT) and answer rate, which when performing will help drive conversions.
Every prospect interaction your team has is an opportunity to get them to convert. Training and coaching of agents is key to ensure consistent messaging.
With the right messaging, your agents will have the tools necessary to convert potential customers and contribute to the success of your contact centre.
Having the right technology to support your team is a vital tool in your contact centre armoury when it comes to conversions.
Omnichannel software means you can handle sales more efficiently and keep track of interactions with potential leads more easily, so you never lose track of a sale.
Thanks to Ben Booth at MaxContact
Customer and Agent Emotions
When Deloitte researched what drives customer loyalty, it noted product, price and convenience as its three fundamentals. However, when exploring brands people loved, it also found "emotion crept in".
Such research highlights why many brands now focus on creating emotionally stimulating journeys as a competitive differentiator. As contact centres provide the ideal place to measure sentiment, they can help to uncover what drives positive and negative emotions.
As the central cog in the CX machine, contact centres can detect common emotions, linking those to particular customer journeys and touchpoints to map out prevailing feelings across an experience.
These findings – powered by sentiment analysis – inform CX transformation initiatives to supercharge loyalty.
What's more, by using speech and keyboard sentiment analysis, agent emotions can also be measured.
As a result, contact centres can enhance remote agent management strategies by offering interventions and "recharge" breaks when agents display repeated negative emotions.
Thanks to Paul Day at Calabrio
Customer Experience

Most contact centres have processes in place to measure agent performance and many also measure team performance; however, very few are able to measure the overall customer experience.
Yet, at the same time, technology failure is an invisible factor impacting the customer experience.
We recently commissioned some global research which showed that the top 10 causes of customer frustration included customers having to repeat their enquiry multiple times (40%), agents not having the full history of the customer (38%), poor call quality (34%) and poor IVR experiences (34%).
By monitoring the effectiveness of screen pops (do they arrive with the call?) and network issues that may impact call quality, contact centres can take the pressure frontline staff and ease customer frustration.
Contact centres should also monitor Service Level Agreements such as call quality and peak hour traffic, to ensure that they are not losing valuable customer calls. This is a real issue that is not talked about enough in contact centres.
Thanks to Sandie Simms at Hammer
Customer Sentiment

The best way to judge the performance of the contact centre – and its agents – is through analysing customer sentiment.
In fact, when underpinned by an AI-powered predictive analytics approach, sentiment analysis is a proven predictor of NPS and thus customer satisfaction levels.
Unlike the traditional approach of obtaining feedback after every interaction, AI-powered sentiment analysis examines the language used on every voice and text interaction in real time to provide insights into the customer's feelings towards a brand's product, services, and agents.
It also auto-scores the soft skilled agent behaviours known to drive customer satisfaction. These insights combined can then be used to make positive changes to agent performance through real-time guidance and coaching.
This not only helps to boost satisfaction levels and, ultimately, NPS, but also improves employee satisfaction and retention.
Thanks to Andy Traba at NICE
First Contact Resolution (FCR)
First Contact Resolution (or First Call Resolution) is one of the most important metrics to track in any contact centre.
Measuring the percentage of customer contact sessions where an issue or request is resolved on the first try, FCR highlights contact centre efficiency and customer satisfaction.
After all, customers whose problems are fixed with a single conversation will always be more satisfied than customers who need to engage in multiple interactions.
Measuring FCR can provide contact centres with insights into issues that might be harming the efficiency of the customer service team. Everything from poor routing strategies to a lack of training for team members can negatively impact your FCR score.
Response Time
Often measured alongside "service level," response time measures how long it takes for your customers to get a response from an agent.
A contact centre manager will measure this metric by reviewing the time clients wait in a chat, on the phone, or after requesting a video call.
A poor response time can indicate several problems in your contact centre. If agents aren't comfortable using the technology they have, it takes longer for them to organize conversations and respond to questions.
Poor routing strategies can also mean some agents end up with more calls than they can reasonably handle. The higher the response time, the higher your abandoned call rate is alongside a lower customer satisfaction score.
Thanks to Geomant
Service Level and Forecasted Demand

There are numerous critical metrics that planning teams measure to balance wait times with cost-efficiency. First and foremost is service level.
When operations miss service level targets, managers typically blame forecast accuracy. However, it is not always the fault of the forecaster. Indeed, changes in average handling times and schedule adherence also play a significant part.
Another factor that frequently slips under the radar is meeting forecast demand, as business leaders fail to staff the optimal number of agents to meet demand. Often, this is due to understaffing and shrinkage.
Workforce management (WFM) solutions support planners in closing the gap. How? Firstly, by automating staffing calculations based on the latest forecast data, enabling planners to continually compare requirements with actual coverage.
However, WFM also offers many more nifty features to enhance meeting demand. For example, break optimization harnesses automation to perfect schedules without adapting shift times.
Thanks to Paul Day at Calabrio
The Real Meaning of Silence

One key metric contact centres use to measure performance is the level of silence on calls. Silence can mean many different things for organizations, whether it's positive or negative, and can massively affect performance metrics if it's misused.
Silence can indicate issues in processes, such as when a system is failing, or highlight areas where agents may need additional training.
It can also be a positive metric, such as when an agent is handling a complex situation for a customer, if coupled with communication that the agent is still present and working on the issue.
With AI-powered solutions, organizations can better understand the context of silence, such as when an agent has high silence due to staying on their call to do their admin notes, even after a customer has hung up.
These insights can help organizations identify areas of improvement for agent training and performance, fix shortcomings in processes or technology failings, and ultimately drive better customer outcomes.
Thanks to Frank Sherlock at CallMiner
Why Are Customers Getting in Touch?

Consider tracking one of the most important metrics – why customers have gotten in touch in the first place, and whether this was a negative, positive, or somewhere in between experience for the customer.
A great CRM can help facilitate this, with the ability to pull out repeat customer contact reasons. Building a bank of frequently asked customer questions within an online knowledge base or via customer facing online forms is another great way to track customer intent.
Knowing why customers are making contact in the first place will also help identify gaps in agent training and broken workflows within the customer journey.
Lack of data and reporting capabilities may provide limited or inaccurate coverage, making this metric a tricky one to track. Consider taking time out to review existing reporting and analytics capabilities to help identify where gaps may exist.
Thanks to Mo Hassan at Business Systems
★★★★★
Some Metrics Are More Important Than Others

Many organizations use up to 30 or 40 metrics to get a full picture of contact centre performance.
However, some metrics are more important than others. Average handle time (AHT) encompasses talk, hold, and after-call work time required to complete a call, while first-time resolution (FTR) signifies the number of inquiries that can be addressed via the first point of contact.
These metrics are easily tracked via contact centre platforms and provide a partial lens into the effectiveness of customer service.
Substandard numbers indicate issues that contact centre managers need to dig into. Poorly designed self-service tools can increase both call volume and AHT.
In addition, problems such as voice quality issues can increase AHT, while dropped calls can skew FTR rates.
Thanks to Perry Gale at Cyara
Metrics That Combine to Create 'Actionable' Data
There's a good reason why the contact centre is often the most measured place in an organization – because measuring contact centre performance and CX is hugely complex.
It's easy to point to flaws in single measures.
Take NPS, for example. People often say it doesn't adequately measure customer dissatisfaction or explain why a customer would recommend a company.
It also doesn't take into account consumer demographics and it can incentivize undesirable behaviours.
The CSAT measure too has its critics. It doesn't really consider the wider customer relationship or how satisfaction/dissatisfaction is likely to affect the future relationship.
However, each of these measures is incredibly useful in its own right as it gives a little more understanding of what the customer is feeling.

And the same can be said of other contact centre measures such as Customer Effort and even Average Handle Time, a much-maligned measure but one which provides another important part of the overall picture.
Armed with this data – together with data from contact handling, quality & performance management, and data & speech analytics services/systems – managers can put together a comprehensive picture.
But don't just serve this up as a detailed series of management reports. Present it as an Executive Summary and Action Plan split into defined areas such as Recommended Training, Coaching and Process Change – with all suggested actions based around empirical data, not guesswork.
Thanks to Russell Wilson at Sensée
Metrics Tailored to Your Strategy

CX has largely been a victim of itself. The wonders (read: blunders) of technology, supply and demand and regulations were hinderances that affected contact centre performance. But CX has entered a new phase, largely driven by metrics.
Technology, customer demand and regulations all now work to our advantage. Platforms are quickly being built around visibility of metrics, promoting better consumer and agent experience, as well as improving call centre efficiency.
Measurements and analytics inform nearly every single business decision, from staffing to process improvement, to outbound and inbound strategy.
Call centre metrics done correctly give us an idea of demand, experience and execution; but it's important to select the right ones for your business.
By tracking the right numbers, you can view, model and understand the customer experience and optimize the management and development of your employees thereby improving internal and external metrics concurrently.
The right strategy can maximize business objectives, maintain customer expectations and motivate team performance to their highest levels.
Let's look at some metrics that can help you implement that strategy:
Peak Hour Traffic
Peak call volume and traffic measurement can go a long way to set your agents and business up for success. The ability to service the maximum number of clients during peak times allows individual call agents to handle the spike in calls and stay out of the weeds so that they can focus on the tasks at hand.
Revenue Per Successful Call
Producers deliver results. Success should always have a monetary amount attached.
Forecasting and call centre revenue expectations should align with how much revenue is produced per successful call.
First Call Resolution
First call resolution (FCR) is the touchstone of efficiency and largely determines multiple downstream KPIs as well. Customers that can avoid transfers, call backs, and follow ups tend to report the highest level of satisfaction.
Net Promoter Score (NPS)
Loyalty and customer experience give tremendous weight to positive revenue and business growth. NPS is an instant snapshot and glimpse into the customer experience.
Cost per Call
How much does each call cost?
Cost per call considers that every call takes agent time on the schedule; the analytical and technical processes of generating a call; the technology costs of making and taking that call.
Monitoring cost per call versus industry standards and business operational targets can help put other metrics into perspective.
The ultimate goal of tracking metrics is to allow you to estimate resource requirements while maintaining service level goals for each of your markets as well as your channels.
The challenge is to forecast and schedule and track, but in a much more complicated world. As we look to the uncertain future, the preservation of your business strategy is impossible without the tools to provide efficient and innovative long-term planning.
Thanks to Bruce Skjolde at Alvaria
For more great suggestions from our industry experts, read these articles next: