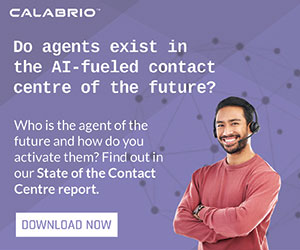 Calabrio has been named an Exemplary Vendor in Ventana Research Buyers Guide 2023: Agent Management.
The report also recognizes Calabrio as a Value Index Leader in 6 of 7 evaluation categories: Adaptability, Capability, Manageability, Reliability, Usability, and Validation. Calabrio is ranked the number one vendor for Reliability and Usability.
Ventana Research's Buyers Guide is a quantified, research-based report evaluating technology providers and products.
The 2023 report ranks 12 vendors offering products that address the key elements of agent management, including quality management, workforce management, interaction analytics, and performance coaching.
"Our success is fueled by our customers' success. I am immensely proud of the Calabrio team's dedication to delivering customers the leading true-cloud, user-friendly product for workforce performance. This recognition underscores our commitment," said Kevin Jones, President and Chief Executive Officer of Calabrio.
"We will continue supporting our customers on their path to success, helping empower their agents with the Calabrio ONE platform, and elevating the role of agents as brand guardians."
"Optimized contact center processes feature agents who are empowered to take action on behalf of the customer and who are supported by technology that supplements, guides and extends the productive capacity of the workforce," advise Ventana Research.
The Ventana Research Buyers Guide provides a balanced perspective of vendors and products that is rooted in an understanding of business drivers and needs.
The index is structured to replicate the RFI/Process by incorporating all criteria needed to evaluate, select, utilize, and maintain technology—and sustain relationships with vendors.
The Agent Management Buyers Guide is neither sponsored nor influenced by technology vendors and is conducted solely in pursuit of Ventana Research's mission to help guide organizations to optimal efficiency in their use of technology investments for business and IT.
For more information about Calabrio - visit the
Calabrio Website