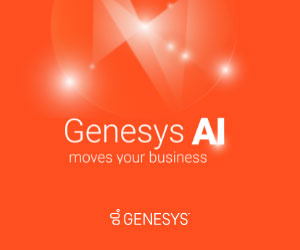 Today Ventana Research released its 2023 Buyers Guide for Contact Centre Suites, a quantified, research-based report evaluating technology providers and products.
You can see the Overall Contact Centre Suites for the 2023 Buyers Guide here: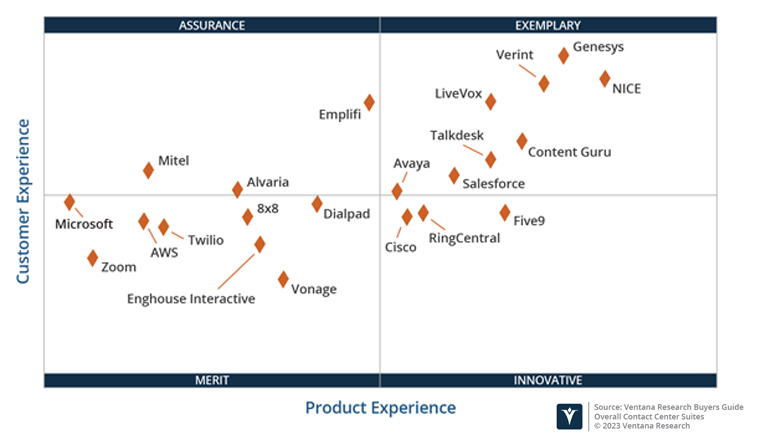 Vendors Placed into One of Four Overall Categories
The research places vendors into one of four overall categories: Assurance, Exemplary, Merit, or Innovative. This representation classifies vendors' weighted performance overall in Product Experience and Customer Experience.
The vendors awarded Exemplary are:
The vendors awarded Innovative are:
The vendors awarded Assurance are:
The vendors awarded Merit are:
AWS
Dialpad
Microsoft
Twilio
Vonage
Zoom
Vendors of Note
The 2023 Buyers Guide for Contact Centre Suites also featured several Vendors of Note, including:
3CLogic
ASC
Eleveo
Intradiem
Lifesize
Puzzel
SharpenCX
TCN
Thrio
Ujet
USAN
What is the Buyers Guide?
The Buyers Guide assesses 22 vendors' products using the Ventana Research methodology, called the value index, evaluating software in seven key categories that are weighted to reflect buyers' needs based on their expertise and research. The Buyers Guide evaluates how well vendors' offerings will address organizations' requirements for contact centre suite software.
Keith Dawson, Vice President & Research Director at Ventana Research comments:

"Our Buyers Guide reports are unique in several ways. First, they are a buyer-focused resource. We try to simulate the questions that buyers in a variety of different personas will have when looking at complex technologies.
Second, in these particular reports we took a very broad view of the contact centre market, looking at vendors that come to the space with very different kinds of expertise and experience.
We start from the premise that the buyer needs to fit this technology into an already complex tech stack, so we look at different aspects of the product to assess how adaptable it is, how reliable, how customizable (and in what ways), along with dozens of other aspects of use and deployment.
Evaluations at other analyst firms have different agendas, all useful to a certain degree, but we feel that our close approach is the most beneficial to people needing to keep up with a tech landscape that is constantly shifting in confusing and unexpected ways."
Download the Full Report
Click here to download the full 2023 Buyers Guide.