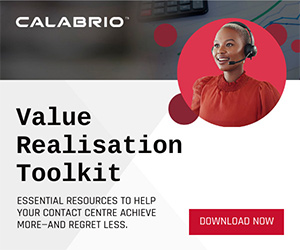 Calabrio has announced that Calabrio ONE is now listed on the Genesys AppFoundry.
With the AppFoundry, Genesys makes it easy for customers who are looking for an enterprise-grade solution like Calabrio ONE to select the best solution for their business starting with a connector for the full Calabrio ONE suite, or separately by product: Calabrio Workforce Management, Calabrio Quality Management and Calabrio Analytics.
Calabrio offers customers:
A unified, feature-rich suite for workforce engagement management (WEM) that boosts core workforce optimization (WFO) capabilities with AI-fueled analytics and agent engagement automation to meet the complex needs of contact centers across all industries, globally.
Enterprise-grade workforce management capabilities, including smarter, faster scheduling to manage service complexities, at scale. Customers access leading agent self-service tools, like Self-Scheduling, that maximize team morale and day-to-day efficiency.
Predictive quality scoring, streamlined evaluations, and smarter insights for more targeted coaching with AI and automation-powered Quality Management.
AI and ML-fueled analytics tools, customizable dashboards, and intuitive visualizations for every single user with Analytics—no data scientists required.
A true-cloud solution that delivers cloud-first innovation, continual feature delivery, and minimal planned downtime—unlike with lift-and-shift cloud vendors. The native cloud-to-cloud integration with Genesys Cloud CX ensures the security, reliability, and scalability needed to future-proof the contact center and meet the needs of a mobile and global workforce.
Interoperability allows for easy integration to existing systems, whether on-premises or cloud. Open APIs (Application Programming Interfaces) and hundreds of prebuilt integrations make customization straightforward and seamless.
Strong return on investment (ROI) as the combined optimization of workforce resources, performance, and engagement catalyzes cost reductions alongside customer experience success. Genesys and Calabrio share a dedication to ensuring customer business thrives, no matter the climate.
"With the role of the contact center as brand guardian and the combination of frontline staff productivity and engagement top of mind, this partnership with Genesys will help our customers more than ever," said Matt Matsui, Chief Product Officer of Calabrio.
"Having Calabrio ONE listed on the Genesys AppFoundry widens both ours and Genesys' ability to enhance the customer and agent experience.
Our solutions empower customer service operations to make smart, data-driven decisions in any work environment, with the confidence and innovation that only true-cloud solutions bring."
Calabrio ONE is now available with Genesys Cloud CX, which helps organizations offer frictionless and connected customer and employee experiences.
As a modern, API-first experience orchestration platform, Genesys Cloud CX enables organizations to coordinate every interaction and touchpoint through a full suite of omnichannel options, built-in employee experience, turnkey AI, and end-to-end journey optimization.
For more information about Calabrio - visit the
Calabrio Website