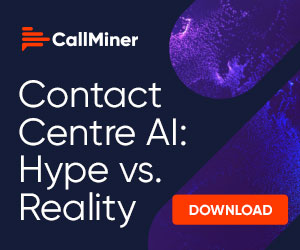 CallMiner has announced new and enhanced features in the CallMiner platform. New capabilities revealed at CallMiner's annual LISTEN user conference expand on the company's continued artificial intelligence (AI) innovation over the past year, including recent generative AI enhancements such as an in-platform conversational assistance help bot, omnichannel AI-based contact summarization and more.
According to CallMiner's recent 2023 CX Landscape Report, while the vast majority of organizations intend to invest in AI solutions in the next 12 months, 44% of customer experience (CX) and contact centre leaders revealed they were unsure of which AI technology would best meet their business needs for CX.
"Given the massive scale of structured and unstructured data that many organizations are collecting and analyzing via their customer service centers and other sources, AI-powered technologies offer a wide range of potential benefits," said Jeff Gallino, CEO and co-founder, CallMiner.
"CallMiner's recent platform enhancements are focused on meeting specific organizational needs and challenges, and ultimately delivering meaningful outcomes and transformational results for our customers."
CallMiner's new and updated platform features include:
Enhanced advanced search capabilities: Within the CallMiner platform, semantic search empowers users to search via natural language to return results where exact or similar language may appear in omnichannel customer interactions.
This advancement automatically identifies alternative ways of expressing the same sentiment, helping users understand meaning and intent with unparalleled accuracy.
Similar to CallMiner Illuminate, launched in 2020 to enable users to find contextual aliases for words, semantic search takes advantage of recent AI and computing advancements to find contextual meaning at the sentence level.
Using OpenAI, CallMiner is delivering increased platform ease-of-use and empowering users with no technical background to discover relevant insights in customer interactions.
Expanded Agent Guidance to Chat Via CallMiner RealTime:
Continuing CallMiner's commitment to omnichannel analytics, CallMiner RealTime can now provide real-time agent guidance on chat interactions, adding to existing voice-based capabilities.
With these AI-enabled updates, users can create alerts and provide agents with contextual guidance on multiple chats, as well as assign different alerts depending on the interaction channel.
By delivering real-time agent guidance at the right time with natural language understanding (NLU), customized for both chat and voice interactions, CallMiner is helping organizations improve customer outcomes and CX in-the-moment, leading to increased satisfaction.
Additionally, CallMiner's expanding contact centre as a service (CCaaS) integration ecosystem – supporting audio acquisition from leading providers like NICE, Genesys, Five9, TalkDesk and Amazon Connect – makes it easier for organizations to deploy CallMiner RealTime and quickly experience value from real-time AI analytics.
Improved User Experience in CallMiner Coach:
New features, including dashboards, modules and reporting capabilities, modernize and improve the ease-of-use of CallMiner's industry-leading agent coaching product.
CallMiner Coach centers on delivering deep analytical insights into agent performance and effectiveness.
The latest updates advance and streamline existing filtering capabilities, including optimized search, make it easier for users to find meaningful information in customer interactions, and start taking action to drive improvements.
Further, supervisors can easily configure CallMiner Coach to display and explore the contact centre and performance metrics that are most important to their organizations.
This includes machine learning capabilities that display how agents are performing since their last coaching interaction, specific areas they need to be coached on and how supervisors can most effectively coach individual agents.
Example interactions and coaching tips are automatically delivered to make training interactions between supervisors and agents more effective.
Updated Reporting Dashboards for Enterprise-Wide Visibility:
Enhancements to reporting capabilities within CallMiner Analyze give users more reporting options and make it easier to identify and take action on trends.
With the ability to create multiple dashboards based on role and need, as well as edit, duplicate and share those dashboards, organizations can more effectively and efficiently share insights from the contact centre with departments enterprise-wide, such as sales, marketing, finance and more.
Enhanced reporting capabilities, combined with the notifications feature announced earlier this year, help organizations establish a culture of persistent performance improvement.
Users can build and send customized notifications so critical information is surfaced to the right stakeholders at the right time, including triggering notifications based on AI-driven categories, data trends and deviations from baseline numbers.
"Our innovation over the past year, including these new and enhanced features, affirm CallMiner's depth of analytics and position as a leader in AI in the conversation intelligence industry," said Bruce McMahon, Chief Product Officer, CallMiner.
"AI has always been at the center of the CallMiner platform, and I'm proud to continue to deliver AI-driven capabilities that prioritize ease-of-use, cross-departmental value and overall ROI for our customers."
This blog post has been re-published by kind permission of CallMiner – View the
Original Article
For more information about CallMiner - visit the
CallMiner Website