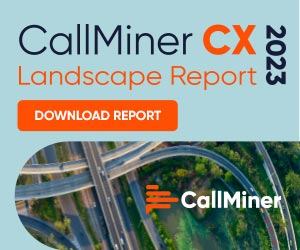 CallMiner has announced major advancements across the CallMiner Conversation Analytics Platform with its Fall Release.
With a focus on agility and flexibility, the Fall Release enables organizations to analyse and uncover insights from more customer conversations than ever before, driving enterprise-wide business improvement.
Organizations have been increasingly moving from on-premise to cloud-based platforms, particularly in the contact centre, and the COVID-19 pandemic has only accelerated this digital transformation.
The shift to remote business operations has changed how managers engage with their customer service representatives (CSRs), how CSRs communicate with customers, the channels that customers use to connect with organizations, and more.
Enhancements to the CallMiner platform enable organizations to navigate these new pressures, while staying agile and gaining intelligence from conversations they're already having.
"CallMiner's Fall Release affirms our commitment to delivering the most innovative and comprehensive products on the market," said Bruce McMahon, VP of Product, CallMiner.
"Our new integrations with Contact Center as a Service providers enable our customers to more easily embrace real-time capabilities, like agent guidance and alerting. We've also introduced a new Solutions Catalogue filled with pre-built queries, scores and metrics that can be quickly browsed, activated and combined to rapidly return conversational insights that uniquely suit business needs.
"We're excited to introduce these platform enhancements and empower organizations to drive greater business improvement from their conversation analytics programs than ever before."
Key updates in the CallMiner Conversation Analytics Platform: Fall Release include:
1. Cloud-based integrations to support real-time guidance:
Expanded integrations with Contact Center as a Service (CCaaS) vendors, including Five9 VoiceStream and LiveVox Shadow Audio, enable organizations to seamlessly capture real-time audio and feed that data into the CallMiner platform to power real-time alerts, insights and agent guidance quickly and effectively.
These integrations demonstrate CallMiner's continued commitment to openness and interoperability, and follow the introduction of CallMiner's Open Voice Transcription Standard (OVTS), which was announced earlier in 2021. Organizations are able to use existing investments, lowering the cost of capturing customer conversations regardless of channel or transcription engine.
2. Customizable solutions and tools to deliver insights fast:
The new CallMiner Solutions Catalogue makes it easier than ever to discover, license, activate and combine composable, out-of-the-box solutions that suit an organization's needs with a single subscription fee.
Easy set-up and pre-programmed, AI-powered search indicators increase the flexibility and speed to value by quickly uncovering insights from customer conversations. These solutions are rooted in accessibility and speed to implementation, making the platform easier to use for stakeholders across the organization.
The Fall Release also includes significant user interface (UI) and functionality updates that enhance user experience and usability.
3. Expanded conversation types to improve business performance:
By automatically capturing and analysing customer conversations from popular meeting platforms, including Microsoft Teams and Zoom, organizations can drive insights beyond traditional contact centre interactions, such as product-related interactions, customer success calls and more.
The expanded ingestion and analysis capabilities meet a more diverse set of use cases, such as customer experience, collections with selective redaction, enterprise sales, and healthcare.
"Changing market dynamics have only strengthened what CallMiner has always known – that organizations are having an increasing number of conversations with their customers across a range of channels, and that those interactions contain the insights needed to drive better customer experience, operational efficiency and business improvement," said Jeff Gallino, CTO and founder, CallMiner.
"By continuing to innovate on and improve our platform, we're empowering our customers to do just that. Our Fall Release makes it possible for organizations to get greater value from existing investments, achieve the flexibility to navigate an evolving industry, and unlock the intelligence contained in customer interactions at scale."
The CallMiner Conversation Analytics Platform: Fall Release is currently available to new and existing CallMiner customers. Select features, such as integrations with LiveVox Shadow Audio and Zoom (beta), will be available in Q4 2021.
This blog post has been re-published by kind permission of CallMiner – View the
Original Article
For more information about CallMiner - visit the
CallMiner Website