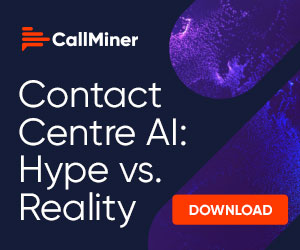 CallMiner have announced the launch of Eureka Visualize for graphical data discovery and presentation at Enterprise Connect 2019.
Visualize, powered by business intelligence platform Tableau, aims to bring your speech analytics data story to life through actionable, easily digestible insights displayed in a user-friendly dashboard.
A drag-and-drop dashboard configuration with a palette of charts and graphs makes Visualize easily customisable or as the option for users to choose from a variety of pre-build reports.
An agile interface makes Visualize easy to manage, interact with and present data at scale to:
Discover – Quickly "see" where speech analytics data offers insight and opportunity for action.
Compare – Before and after or A/B comparisons make it easy to evaluate alternatives and drive results with root cause evidence.
Articulate – Craft your narrative with graphics for attention; annotate for emphasis and easily share for greater awareness and education across an organisation.
"Conversational insight from every contact centre interaction colours your customer experience and agent quality optimisation with rich data-driven focus," said Bruce McMahon, Vice President of Product at CallMiner.
"Visualize creatively works to turn data into a narrative with attractive, meaningful graphics, speeding the time to insights and action."
Visualize presents a dashboard within Eureka Analyze for graphically interacting with and presenting insights from voice and text-based customer interactions.
Metadata associated with each interaction is easily accommodated for contextual value derived from within and beyond conversations.
A selection of pre-built reports is available with user flexibility to customise a wide range of parameters for data selection and comparison and chart and graph options.
"CallMiner's enterprise-ready ability to capture intent, effort and emotion from every contact centre voice interaction combined with Tableau's visual analytics will empower organisations with creative insight that spans organisational boundaries," said Patrick Evans, Senior Director, Global Embedded Analytics at Tableau.
"We're thrilled to see CallMiner take advantage of Tableau's open, flexible platform with the creation of this new offering that will help customers unlock more insights from their data."
Eureka Visualize users will enhance their ability to communicate with graphical engagement that informs and drives change at all levels of an organisation.
To find out mroe about CallMiner, visit: callminer.com