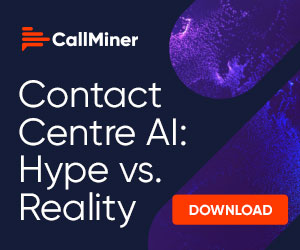 CallMiner demonstrated its updated real-time speech analytics module, Eureka Alert, at the 10th annual LISTEN customer conference.
Eureka Alert combines AI-driven automated transcription, redaction, and alerting to provide real-time direction to contact centre agents and supervisors to drive specific outcomes within a call as it is occurring, or alerting management of critical risk or customer experience issues.
"Real-time alerting is a crucial tool for improving or even saving customer interactions, preventing customer attrition, driving sales, or mitigating serious legal and security risk," said Bruce McMahon, Senior Director of Product Strategy at CallMiner.
"CallMiner Alert provides critical information and reminders as the conversation is taking place rather than days or weeks later in a monthly review with the agent."
The Next Generation of Real-Time Call Monitoring
Eureka Alert leverages the core Eureka data processing engine that was enhanced earlier this year to support 10X the capacity of the previous platform, significantly improving the scale of real-time capabilities by allowing users to monitor hundreds of thousands of agents concurrently.
Alert is an API-based module designed to easily integrate into existing agent desktops, CRM platforms, or other live monitoring applications for seamless alerting through a familiar interface. In addition, supervisors using Eureka Coach can monitor real-time alerts via the Coach interface.
Improving Accuracy and Speed to Insight
Alert uses high quality, speaker-separated audio captured at the source produce real-time streaming transcriptions that substantially increase alerting speed.
Alert monitors the full stream of transcription and uses contextual memory to consider the overall progression of a call based on any user-defined trigger events, allowing for more sophisticated alerting and reduction of false positives that plague other real-time speech analytics solutions.
Example: Alerts based on specific phrases or mentions
Customer calls to cancel a service which triggers an alert with recommendations on talk down language and standard promotions to offer. The customer mentions a promotion from a competitor, which then triggers another alert with specialised options available to the agent to compete with that specific competitor pricing.
Example: Alerts based on building dissatisfaction
At the first mention of customer dissatisfaction, an alert would be triggered with reminders to the agent on how to address the customer's frustration. If dissatisfaction language continues, an email or alert would be sent to a supervisor to notify them of the need to potentially take proactive steps to intervene in the call.
Alert is also fully integrated into the Eureka Analyze platform to provide faster post-contact analysis with AI-fuelled categorisation and scoring of transcribed audio.
Business Benefits of Real-time Data
For a data security conscious world, Alert is built to automatically redact all audio for PCI compliance by targeting credit card numbers and other sensitive data for removal from the audio and transcription text prior to calls being recorded.
As an API-based module, data and notifications from Alert can be integrated not only into agent and supervisor tools, but also into tools across the wider business such as BI and CRM systems.
Access to these customer insights can inform a range of business programs such as sales, marketing, compliance, and customer experience with real-time understanding of the voice of the customer. This allows businesses to pivot or amplify their strategies based on quicker access to customer intel.
Summary
Key features of Alert:
Built to scale, providing simultaneous monitoring of hundreds of thousands of calls
Real-time streaming transcription with speaker separation
Automated redaction for PCI security without the need for data at rest
Real-time alerting based on user-defined keywords, phrases, or acoustic measures
AI-driven next best action guidance and supervisor notifications
API access to alerts for integration into existing applications and workflows
Real-time view of alerts in the Eureka Coach interface
Fully integrated with Eureka Analyze post-call analytics for greater speed to insight
For more information about CallMiner Eureka engagement analytics and Alert, visit: www.callminer.com