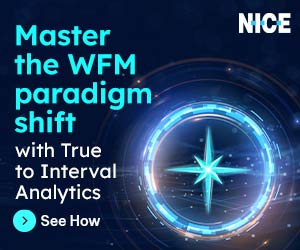 Liran Meir Frenkel at NICE explores whether healthcare can be both less costly and more efficient.
The contact center industry has seen two trends happening in parallel – rising wages and agent attrition.
The United States Department of Labor reports that salaries increased 4.5% from September 2020 to September 2021, and then again by 5.1% between September 2021 and September 2022.
In fact, while 63% of global companies increased salaries in 2020, that figure was 96% in 2022. While recent global inflation has eaten into those rises in terms of real monthly wages, according to the International Labour Organization (ILO), the key trends are nonetheless still evident.
Firms are trying to keep up with cost-of-living increases as they try to attract scarce talent, as 'gig economy' contact centre jobs become more and more viable thanks to common remote work practices. According to research by Aberdeen, the average agent attrition rate "remains at a staggering 38%."
Healthcare Is Seeing a Similar Situation
What is happening in healthcare? Costs seem to be rising, yet there is no commensurate increase in efficiency.
Dick Bucci, Principal of Pelorus Associates and a researcher specializing in contact centre technologies, took a look at that phenomenon in a recent article.
No other industry in the US has had the kind of growth in labor costs that the healthcare industry has. However, Bucci notes, this has not been accompanied by labor productivity gains.
Alongside a ballooning labor force, administrative costs (about 25% of total hospital care expenditures) and time spent on billing-related matters (about 22 hours each week) contribute to high costs and reduced productivity in the American healthcare industry.
The situation is untenable for long, as both patients and caregivers continue to suffer from the stress and health outcomes can be seriously affected.
Faced with these issues, the question arises: What can be done?
Reducing Costs With Back-Office Performance Management
One approach is to improve productivity in healthcare organizations, especially in the back office.
Back offices in the US healthcare industry employ a large number of people and handle processes – such as admissions, insurance claims processing, billing and collections – that do not involve direct contact with patients.
Increasing productivity for those tasks alone can be a valuable target for optimization efforts, as many routine back-office tasks and documentation can be quickly streamlined.
If the healthcare industry undertook those kinds of initiatives en masse, rather than continually expanding an increasingly expensive workforce, then estimates are that healthcare spending by 2028 could potentially be up to $550 billion less than current national health expenditure projections.
How might a healthcare organization begin optimizing its back-office workforce?
The answer is performance management software designed to boost employee productivity and operational efficiency. It can incorporate robotic process automation, desktop analytics and artificial intelligence, in order to spot performance issues and even recommend corrective action.
The Performance Management Back Office Essentials (BOE) package is our recommendation for hospitals and other healthcare facilities.
It includes the Performance Management software, desktop analytics, and preconfigured reports and automations providing comprehensive visibility into back-office employee activities, application usage and performance.
Granular, actionable insights into task handle times, employee behavior and process bottlenecks make it possible to tailor coaching and gamification for each employee, as well as to identify where business processes can benefit from automation or other streamlining.
Moreover, BOE's built-in integrations with front-office solutions enable a consistent and centralized approach for best outcomes.
Performance management is a proven pathway to improved productivity, which will contribute to lowering costs and keeping employees more engaged. And that is, ultimately, healthier for everyone.
This blog post has been re-published by kind permission of NICE – View the
Original Article
For more information about NICE - visit the
NICE Website