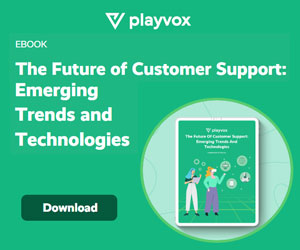 Blueberry Markets is a premier foreign exchange broker based in Sydney, Australia. Offering clients around the world access to trading instruments and leading market experts has enabled Blueberry Markets to become the best rated Australian forex broker.
Challenge
No data on quality or customer satisfaction from the previous CX team, which was outsourced
Need to create an in-house CX team from scratch amidst a pandemic
Suboptimal agent performance due to lack of quality coaching and monitoring
Solution
Creation of an in-house CX team using the Playvox platform to create new quality assurance processes
Integration of Playvox products: Quality, Coaching, and Community to enable more effective management of the CX team
Routine observation, performance analysis, and coaching via Playvox to help build team skills
Result
An in-house team of 18 agents operating remotely via the Playvox platform
Agents feeling greater motivation and having a clear path to success with Community platform and Playvox's Karma Store
Full accountability for agents with complete logs enabling the implementation of quality standards
Challenges
Based in Sydney, Australia, Blueberry Markets was founded in 2016 and has grown to become the leading foreign exchange broker in the country, offering access to forex, crypto, and other financial markets to tens of thousands of active users around the world.
Until 2020, Blueberry Markets' customer service team was outsourced to a third party, which offered an unsatisfactory standard of work with little in the way of quality assurance or tangible data for the Blueberry team to better manage its customer service processes and team.
Last year, mid-pandemic, Customer Experience Manager Hanna Aquino joined the Blueberry team and was charged with creating a CX team from scratch.
To aid with the creation of the new team — while the world had shifted to working remotely — Hanna chose to work with Playvox for its agent optimization capabilities.
After evaluating various options, Hanna knew the Playvox platform was best equipped to help with the management of her team.
"Playvox has been the best onboarding experience for me ever. They were very supportive right from the beginning. We had this conversation about what we need, and we had multiple sessions of video calls where they were showing everything that I need to do. And I mean, everything, everything."
"The other tools that I checked out did not provide onboarding. Just free trials. When I opened those trial tools, it was overwhelming. I did not know what to do, where to click, where to go."
Solution
Blueberry Markets joined forces with Playvox, adopting three of the company's offerings — Community, Coaching, and Quality — to aid with the creation, launch, and ongoing management of Blueberry's CX team.
After less than a stellar experience with outsourced solutions, quality assurance was a key concern for Hanna.
"With the outsourced vendor, there was no data on quality or customer satisfaction; the two are always interrelated. I had seen the chats with rude agents. That's the worst part of not being able to measure and coach. With Playvox, we're able to put the standards we want in place and in a format everyone can understand."
Following a smooth onboarding with Playvox, ongoing support also enabled an effective transition to in-house operations, despite the challenges presented by the ongoing pandemic.
As the sole manager responsible for handling the remote CX team, Hanna relies on the Playvox platform to facilitate agent monitoring and logging to avoid falling back to bad practices. With her leadership, the Blueberry CX team is building a bank of agent experiences for each agent to learn from.
"I'm the only manager. It was a struggle for me to monitor everyone, especially when I was not working. So that's also a major thing that Playvox helps me with because I've got team leaders as well quality analysts who monitor the performance of everyone and the quality of their work."
When it comes to remote working, there is concern about team bonds, motivation, and engagement with professional practices. This is where the Playvox Community has helped Blueberry Markets agents, especially at a time when face-to-face work was impossible.
Results
The in-house CX team has been operating for more than a year, utilizing the Playvox platform to create a quality assurance and coaching system for each agent.
While some agents' performance may have started at a lower level, Hanna has been empowered via Playvox Coaching and Quality to develop individuals rather than feeling the need to begin a long and costly recruitment process.
"We had a lot of agents that started with sub-par work. The engagement was not there. We're now able to provide them the feedback that they need and learn from. Performance has improved big time over the past year."
Hanna was keen to engage with Blueberry Markets' agents, creating a community space in an environment where motivation was coupled with a less restricted way of working. Playvox's Karma Store allows agents to earn points and redeem them from a catalog of items in conjunction with performance badges for recognition.
These badges are used extensively at Blueberry Markets with all agents receiving acknowledgement of their successes.
"The community is like our on-the-job social media platform. We share work-related and nonwork related posts. And then it's mainly for the karma store. Along with measuring quality and coaching, we want everyone to be recognized consistently. The community and karma storer make that easy."
Fun is the word Hanna uses to describe the way Playvox has powered the Blueberry's quality assurance system from the start.
"With the coaching logs and quality, we have a little fun. When I do my evaluations myself, I add smileys and 'LOL' just to let my team know that we're all learning and can still have fun. We all make mistakes. And the important thing is that we learn."
With Playvox, Hanna and the Blueberry Markets team have a platform designed with their needs in mind, operating with systems in place to facilitate professional growth and tailored to support the company as it continues to grow.
"I really can't find anything else better. I am very happy with Playvox."
This blog post has been re-published by kind permission of Playvox – View the
Original Article
For more information about Playvox - visit the
Playvox Website