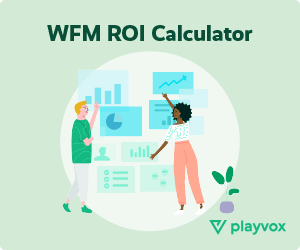 MongoDB empowers innovators to create, transform, and disrupt industries by unleashing the power of software and data. MongoDB has tens of thousands of customers in more than 100 countries.
The MongoDB database platform has been downloaded hundreds of millions of times since 2007, and millions of builders have been trained through MongoDB University courses.
Challenges
Unable to scale shift scheduling work using simple spreadsheets and manual effort alone
Challenging to account for scheduling complexities
Difficult to manage operations with varying manual processes across global teams
Lack of visibility into total availability across global team
Solution
Playvox Workforce Management, centralizing accurate schedules and leveraging a single process that accounts for agent availability and preferences.
Results
Efficient schedules
Centralized global scheduling
Consistency in process between WFM Schedulers
Boost to agent morale due to more consistent schedules that align with availability and preferences
Challenges
When MongoDB reached out to Playvox, they had a number of scheduling challenges. With hundreds of technical agents in differing regions and time zones, they needed coverage to serve their audience twenty-four hours per day, seven days per week.
"Many of the issues that are escalated to support are complex because our customers are tech-savvy. We needed to ensure we had coverage without sacrificing support or service," said Anokhee Mepani, Director of Global Operations / Technical Services, at MongoDB.
The operations team at MongoDB was using spreadsheets and calendar tools for their scheduling needs. As with many manual processes, they had daily issues such as incorrect schedules that did not consider agent preferences, availability or PTO, and gaps in coverage.
With five separate WFM Schedulers handling schedules for different regions, scheduling for things such as daylight savings changes was difficult since not all regions changed time simultaneously.
And, because the Schedulers used different processes, it was a challenge to scale to meet the growing demands of their customer base.
"Since we didn't have a consistent way of forecasting and scheduling, it was difficult if a particular Scheduler was out of the office," noted Anokhee.
MongoDB reviewed a number of WFM tools and even considered building their own in-house system since they became convinced that other WFM tools could not meet their complex and unique needs.
Solution
After a thorough vetting process, MongoDB decided to implement Playvox in December 2021.
"We chose Playvox as we found that their solution was designed for the complexity of a business like ours. We also appreciated the solution's flexibility and ease of building integrations," said Anokhee.
Playvox WFM is 100% cloud-based, enabling MongoDB to customize it to fit their business needs. In addition, with an open API, Playvox provided out-of-the-box functionality and the ability to scale as their business grows.
With Playvox WFM, MongoDB can leverage a centralized tool that schedules efficiently across multiple regions and time zones.
Results
With the Playvox solution, MongoDB was able to recognize multiple benefits such as:
More efficient and accurate schedules
Fewer schedule inaccuracies
Ability to centralize scheduling efforts
PTO coverage for Schedulers as needed
A boost in agent morale from consistent schedules that account for availability and preferences
"The Playvox WFM solution has made a significant impact on our ability to scale our customer operations team and gives our agents a morale boost as they now know their schedules will be accurate. We would not have been able to make the progress we have without Playvox WFM," summarized Anokhee.
For more information about Playvox - visit the
Playvox Website