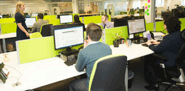 Flow Energy is a brand new utility, officially launched in April 2013. They have recently deployed a multi-channel contact centre from Vocalcom.
Not only is the company offering a low fixed rate gas and electricity tariff in the UK, but it is also soon to launch a unique microCHP (Combined Heat and Power) boiler. This boiler will generate electricity as it uses gas to heat the home, reducing bills and carbon emissions.
"Flow Energy has set out to be a different kind of energy business," explains customer services director Shaun Underwood, "and the boiler proves our creativity and strength in innovation. But it's also an idea that permeates the business. We want to provide an exceptional level of customer service in an industry that has traditionally disappointed customers in terms of service."
Flexibility and future-proofing
Flow  Energy knew it quickly needed to set up a contact centre to handle enquiries.
After researching potential contact centre solutions, Underwood approached Vocalcom.
"It was essential for us to have a fully functioning contact centre, staffed with knowledgeable workers right from the start," Underwood explains. "But the key challenge was that, as a start up, we weren't sure exactly what we needed from a customer contact solution – so the key for us was that it had to be flexible."
"We decided to go with Vocalcom because they offered a multi-channel system with flexibility and the ability to customise," says Underwood. "The system would also seamlessly integrate with our CRM and provide us with the fundamentals of customer service provision, such as IVR. But it also offered the advanced functionality that we may need to engage with our customers in the future, such as web chat."
Textbook implementation
But, as with all technology implementations, surely there were glitches or obstacles? Not according to customer services manager Richard Ward.
"There were no real teething problems," he explains. "The whole process was very structured, which didn't really leave any room for issues. Basically, it's easy to implement something that works first time."
The key features and benefits
1. Browser-based
The browser-based system is so simple that a new member of staff can be trained to start using it within a short period. "The IVR tool is also really easy to use," reveals Ward. "We built an IVR in a morning."
2. A custom-made solution
"The customisable nature of the Vocalcom screen our CSAs interact with is great," explains Ward. "We can do pretty much everything we need to do in that screen and we don't have to touch our CRM."
The system also allows users to switch features on and off – for example, Flow does not currently need outbound dialling, so that feature has been disabled.
3. Screen popping
It's important for Flow Energy to resolve a customer's query the first time they call, so being able to share information across teams is crucial. The screen popping function provided by the solution allows one agent to transfer a customer's details in full to another agent's screen. This eliminates the need for the customer to repeat any information.
4. Scalability
The flexibility of the solution means that it can be up-scaled very quickly. "We're expanding the contact centre as we grow," says Ward. "Fortunately, we've got a system that can grow with us and to which we can add more and more features as we need them."
References:
For more details about the Vocalcom contact centre visit – www.vocalcom.com/en/contact-center-software
Flow Energy's website – www.flowenergy.uk.com
---