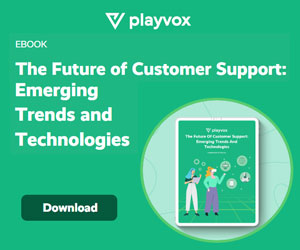 Stockpile is a fintech startup that makes it easy for investors of all ages to learn about the stock market and start buying shares of their favorite companies in minutes.
Challenge
Offering high-quality customer care in a heavily regulated industry
Finding a way to analyze qualitative customer feedback and turn it into actionable data
Solution
Playvox's Customer AI platform allowed Stockpile to gather customer feedback from different sources and identify key issues to tackle
Surfacing these issues allowed the entire company to get aligned to tackle them
Result
350% ROI from conversation tagging automation
60,000+ conversation automatically tagged across multiple data sources each year
596 agent hours saved each year
$27,000 in operational costs saved
57,000 hours of customer time saved
Challenges
Fintech startup Stockpile makes it simple and affordable for young investors (millennials and even children) to learn about the market and start investing. Their specialties include fractional shares and shares given as gifts.
Like every other company in a heavily regulated industry, Stockpile has to strike a balance between customer care and regulations.
At Stockpile, that job falls on Jeffrey Laird, Vice President of Customer Care. His primary responsibility is making sure everyone hears and listens to customer feedback, which can be a struggle at times.
"Customer AI takes the fight out of internal discussions so we can focus on what's important: why are we here, why are our customers here? What do they want us to do so that they continue to stay and grow and we deliver on why we built this company in the first place?" – Jeffrey Laird
A startup mindset meant Stockpile needed an easy way to parse customer data so they could focus on the "why" behind it.
Jeff entered the company during a hyper-growth phase and quickly realized stating customer needs wouldn't be enough to move the product roadmap.
"I'm a pretty good storyteller, but as with most other organizations, data is necessary to make a product case. I knew I needed help gathering and analyzing insights if I was going to turn our customer feedback into internally influential stories."
Jeff considered hiring an engineer or data scientist specifically to analyze customer feedback. Then he found Customer AI.
"Immediately the noise was gone and we were able to see what the customer was saying and it was
wonderful. I remember thinking, This is great, we're clearly getting more value than we're paying for."
Solution
Customer AI's AI-powered text analytics platform gave Stockpile the insights to push for a product that would delight customers.
Jeff and his team began using Customer AI to analyze the most common topics and sentiment across Intercom conversations, Trustpilot, and Apple App Store reviews.
Soon after implementation, Jeff saw that 30% of Stockpile's customers were talking about one issue: money movement. In any company, pitching changes to the revenue model is a hard sell, but it's even harder in a regulated industry like finance.
"There's an expectation in the world today that money should move instantly, but we work in an industry where many of the rules were written in 1933. That can slow things down. So we have to continue to look for innovative ways to move fast to satisfy our customers' demands."
When Jeff dug deeper into the customer data in Customer AI, he saw insufficient funds fees were a particularly contentious point.
Customers initiated a funds transfer, but spent the money before the transfer went through. They were being assessed a $25 fee for not having money in the account. Stockpile's customers were not happy about this.
"If you can show something has not only a steep dollar cost but also a steep cost to the brand and team morale, that'll get people thinking about how to solve it.
With Customer AI, I was able to say: Here's how many people talk to us about this, this is how much time we're wasting, and here's what customers are saying in their negative reviews."
"With Customer AI, I was able to say: Here's how many people talk to us about this, this is how much time we're wasting, and here's what customers are saying in their negative reviews."
When confronted with an issue with that much tangible evidence, other teams quickly jumped on board to help solve it. Among them was the engineering team, who quickly discovered and implemented Plaid's balance check feature, which immediately reduced the number of contacts.
"You have to go back and continue to tell the story after the fact so other teams can see the impact of these changes on both the business and the customer."
Jeff summarizes Stockpile's use of Customer AI:
"You have to go back and continue to tell the story after the fact so other teams can see the impact of these changes on both the business and the customer."
"This tool saves me the analysis time and gives me a place to refer back to when I need to tell a story internally. It's a great way for us to see the tangible impact that our product is having and of the work that we do for customers. In that sense, Customer AI has become not just proof but also a proof point."
Results
Automation
60,000+ conversations automatically tagged across three data sources each year
Time Savings
596 agent hours saved per year by removing the need to tag conversations
Actionable Insight
Helped identify an issue that saved $27,000 in operational costs and 57,000 hours of customer time ROI 350%+
ROI
Achieved from conversation tagging automation
This blog post has been re-published by kind permission of Playvox – View the
Original Article
For more information about Playvox - visit the
Playvox Website