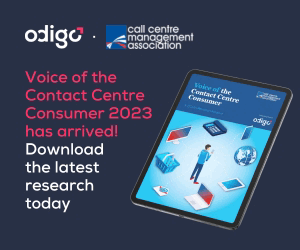 Neil Titcomb at Odigo outlines what business and customers expect from contact centres in the digital age.
As technology continues to advance and consumer behaviour and working habits evolve in the wake of Covid-19, contact centres must adapt to heightened customer experience expectations in 2021 and beyond.
The Service Level Agreement (SLA) contact centre must focus on a multi-channel mix and joined-up systems to provide seamless experiences for customers in an increasingly competitive landscape. Read on to learn more.
As technology advances, customers are empowered with choice and convenience, and no other industry has had to adapt more than that of the contact centre. Customer experience expectations in 2021 are more complex than ever, with phones still leading the way, but self-serve on the rise.
Read on to find out about the SLA contact centre and how leaders can adapt to provide better experiences for customers and agents alike.
Customer service organisations have always been in a continuous struggle to respond to the ever-changing landscape of customer expectations. No other industry has had to adapt and evolve more quickly to the new era of the empowered consumer, the growing number of communication channels and the challenges of the new millennial employee.
The contact centre, seated at a unique position at the crossroads of customers, channels and employees. Now, as technology continues to advance and consumer behaviour and working habits evolve in the wake of Covid-19, SLA contact centre leaders must be able to adapt once more to heightened expectations.
From drastically reducing pick-up times to using analytics to drive strategic objectives, the onus is on SLA contact centre managers to harness technology to drive innovative customer experiences and help their companies meet altered SLAs in a new age.
There has been a huge amount of discussion around the impact of the pandemic on contact centre operations, and on customer service. The debate has not just been confined to our industry – it has spilled over into the mainstream and has been the topic of considerable column inches in the press.
Recently, a CCMA report commissioned by Odigo conducted research into how customer service has changed and how customers are responding to those changes.
Customer Experience Expectations in 2021
The opinions are mixed. Slightly more consumers say customer service is better today compared with before the pandemic (31%) than those that say customer service has become worse (28%), while 29% thought it was "about the same."
This roughly equal three-way split carries an important message for contact centre managers about the need to focus on a holistic transformation of customer service channels, rather than patching various areas in a piecemeal approach.
There is also a need to maintain awareness of the preferences of different age demographics. The CCMA report found that people aged 34 or younger are almost twice as likely to believe customer service has improved since before the pandemic (42%), compared with those aged 55+ (22%).
This is reflected in the contact channels these demographics primarily tend to use. While younger consumers are more accustomed to using self-service and digital channels, older demographics still lean towards phones as their primary touchpoint, and during the pandemic, that's perhaps the channel that has seen the most disruption.
Perhaps most important, however, the report highlights that channels no longer exist in isolation, and must form part of a joined-up, channel-less approach built around meeting the customer where they want to be met.
For example, this could take the form of chatbots or IVR being used to triage queries before passing them on to live or assisted channels if necessary. While consumers do tend to lean more towards live or assisted channels, there is an increasing willingness to self-serve.
The CCMA report was published in April 2021; compared to September 2020, there had been a measurable increase (40>46%) in consumer propensity to self-serve – particularly for relatively straightforward customer service interactions such as placing orders or getting delivery updates.
The Challenges the SLA Contact Centre Needs to Address
What this means for SLA contact centre leaders and transformation directors tasked with overhauling the contact channel is that they face a mix of multi-faceted challenges across both new and traditional channels. The issues highlighted in the CCMA report were, in order of prevalence:
Customers waiting too long to connect,
Customers having to repeat themselves,
Advisors being unable to solve issues,
Inability to get through to agents, and a need to abandon contact attempts,
Advisor was rude/had a poor attitude,
Advisor did not understand the query,
Customer could not find the hotline number.
That impatience among callers was the most prevalent issue is indicative of an audience accustomed to on-demand services and a world of immediacy and convenience. This reinforces the imperative for SLA contact centre leaders to broaden the amount of contact channels they work with, and drastically reduce waiting times – or risk losing customers.
The importance of joining up those channels is reflected in the second-most prevalent issue found in the CCMA report – customers having to repeat themselves. As customers, we know that our data is harvested and stored constantly, so we expect our data will drive more seamless interactions with the brands we connect with most frequently.
However, when these interactions are more tedious than seamless, we can begin to wonder what is the point of giving so much information about ourselves to any brand.
These issues highlight an urgent need for brands to pivot their contact centre offering, recognising that the new-style SLA contact centre is on the frontline of brand and customer experience.
To meet customer experience expectations in 2021, the issues discussed above need to be solved by adding new, artificial intelligence (AI) driven bots into the mix and creating a joined-up ecosystem in which customers experience seamless journeys and advisors are furnished with the relevant information to serve them.
How CCaaS Can Deliver the SLA Contact Centre
These pressures and the rise of remote and hybrid workforces, create a market ideally suited for Contact Centre as a Service (CCaaS) platforms. CCaaS platforms provide integrated, customer-facing channel hubs and provide agents with the relevant consumer insight data to offer a sophisticated, intelligent and empathetic service.
Additionally, they can be integrated with unified communications solutions, facilitating collaboration between geographically dispersed colleagues.
One of the most significant benefits of a CCaaS solution is the provision of key data insights. AI (the ability of a computer program or machine to think, learn and mimic human actions and behaviour) – and Intelligent Automation (IA) (A combination of robotic process automation (RPA) and AI that drives digital transformations to achieve end-to-end business process automation by adopting tasks traditionally done by humans) are key facilitators of this provision.
Using AI and IA to collect, manage and analyse customer data can furnish contact centre managers with vital, real-time information when interacting and engaging with customers.
This means that agents take the best, most informed action every time, however, it also translates into a more seamless, efficient service for customers.
In a business landscape radically altered by pandemic-related shifts and post-Brexit trading relationships, brands must accelerate their existing engagement strategies and add new capabilities to meet customer experience expectations in 2021 and beyond.
The contact centre remains the vital hub of accomplishing this, and by transitioning to a CCaaS solution, brands can exceed new and heightened expectations, whatever the future holds.
This blog post has been re-published by kind permission of Odigo – View the
Original Article
For more information about Odigo - visit the
Odigo Website