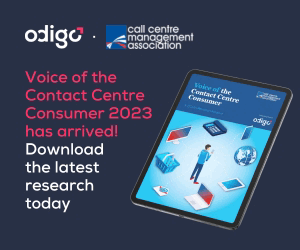 Neil Titcomb at Odigo explains how digitalisation, integrated channels and self-service, the potential for intricate personalised customer journeys has never been so varied. But what do customers really think about the services on offer today and the contact centres that provide them?
To find out just that, the Call Centre Management Association (CCMA), supported for the second year by Odigo, has explored customer opinion in their Voice of the Contact Centre Consumer research.
In March 2022 Stephen Yap, the research director at the CCMA, asked the opinion of 2,004 UK customers on contact centre services and culture. Those findings were then presented to industry professionals for context and commentary. Read on to learn more.
The Big Customer Opinion Question
'Would you say that customer service overall today has improved, worsened or stayed the same?'
This comparative question sought the opinion of customers on the changes over the last 12 months:
28% said service has improved
30% thought the opposite
A similar picture was seen 12 months ago. Although at first glance this year is slightly worse, there is more to it than first appears. When these opinions of customer service are broken down by age a marked variation is seen:
Twice the number of those aged 18-34 believe service is improved compared to those aged 55+
The opposite is true when it comes to customer opinion that service levels are declining. Double the number of 55+ think service is worse than 12 months ago compared to the 18-34 age group. This is an intriguing way to set the stage for the rest of the research. It also makes the other data comparisons more poignant.
One of the most prevalent questions last year was how customers were adapting to digital journeys and self-service. The full 2021 report is available for download here. Considering the findings on general customer opinion, did the acceptance demonstrated then carry over into 2022?
There is still a great deal of willingness to use self-service but subtle patterns are emerging that may hint at developing customer preferences. For some self-service query types customer opinion shows increased acceptance, for example, self-serving a delivery-related query has increased by 5%.
Others have decreasing levels of self-service like complaints or refund inquiries. Interaction complexity and urgency may be a factor in this change.
There is certainly a range of things to consider when planning what to bot, what not to bot, automation and AI-powered omnichannel bots need to be deployed intelligently to create services that customers value.
Customer Service Relationships
Customer service remains a key business differentiator but the nature of the relationship could be changing. In this year's research, as well as repeating some of the questions from last year, the CCMA asked customer opinions on a new set of questions:
Have you ever stopped buying from an organisation because you didn't agree with its values?
What do individual sectors do well when it comes to customer service?
How would you rate a career in customer service? Focusing on 7 telling factors.
What the CCMA found out about corporate citizenship and the perception that agents do an important job for the community suggests the growing importance of morality and social responsibility.
To influence this, though, a lot rests on organisations embedding positive culture and communicating it with the right messaging and publicity. However, if your values and actions are misaligned it is likely to be noticed so you need to mean what you say.
Positive messaging and self-promotion could well be something that some sectors do better than others. The banking sector, in particular, has to be commended for some fantastic results when it comes to public perception of its services.
Overall, although there may be some things customers would like to change, they can see the hard work and dedication of frontline agents and that is cause for celebration.
Respond to Customer Opinion With CCaaS
Contact Centre as a Service (CCaaS) solutions come with the automation, speech analytics and integrated omnichannel features that contact centres need to provide modern efficient service.
More than that, though, by using customer journey mapping and data visualisation, this technology can be intelligently applied to crafting the experiences customers want and help support hardworking agents.
Customer opinion of the customer service industry shows there is respect and acknowledgement of the desire to help.
With strong values, honest communication and the right mix of channels, customers can build a relationship with an organisation that can outlast contract periods or just the next isolated interaction; it is possible to communicate on the matters that make a difference to a customer base.
Intelligent application of technology means businesses are not bystanders to customer opinion. Are you interested in all the insights and breakdowns from the research?
This blog post has been re-published by kind permission of Odigo – View the
Original Article
For more information about Odigo - visit the
Odigo Website