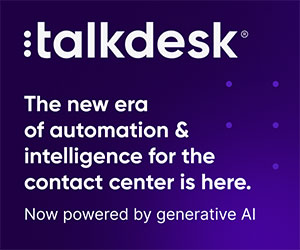 Talkdesk has announced at Opentalk 2021 the winners of its second annual CX Innovator Awards, which recognize companies who have used the Talkdesk technology over the past year to reshape their customer experience (CX) and gain a competitive advantage.
The winners and honourable mentions are as follows:
CX Innovator Award
Winner: Sysco
Honorable Mentions: PowerSchool and Tuft & Needle
This is the second year Sysco has won a Talkdesk CX Innovator Award. Its CX vision is to leverage leading-edge technology and intentionally designed processes to allow agents to focus on caring for customers.
With the global COVID-19 pandemic dramatically impacting the restaurant industry, Sysco turned to innovation to redefine both the employee and customer experience by focusing on technology, operational efficiency, and supply chain effectiveness.
New initiatives included:
Sysco CARES for economic relief to restaurants
A customer self-serve program called "Where's My Truck" using Talkdesk Connections to proactively provide delivery information to uniquely identified callers
A pilot program using Talkdesk Agent Assist to listen to calls, and serve up the appropriate knowledge base article to agents
A Talkdesk/Salesforce integration to manage emergency messaging updates
The company's dedication to improvement is evident, with several customer-reported metrics including net promoter score (NPS) increasing, and internal support team customer satisfaction (CSAT) at an all time high.
CX Rookie of the Year Award
Winner: Gant Travel
Honorable Mentions: Thompson Gas and Krucial Staffing
Gant Travel's CX vision is to "become our customer's last best experience."
Since moving to Talkdesk in June 2020 with a go-live in August 2020, Gant Travel has improved their interactive voice response (IVR) experience for customers through enhanced recordings, tips and tricks, streamlined IVR flow (moving from 25 call flows to one), an improved call back system, and automated notifications for potential fraud callers.
Gant Travel has seen an increase of NPS score by over 20 points in addition to significant cost savings of several thousands of dollars a month since implementing Talkdesk.
CX Business Impact Award
Winner: EmployBridge
Honorable Mention: PowerSchool
EmployBridge is also now a two time Talkdesk CX Innovator Award winner. Its CX team is critical for connecting over 400,000 job seekers a year to the right employer. The team's CX vision is self-service as a differentiator and using technology to increase efficiencies.
EmployBridge optimized its contact centre using data, automation, an integration with Microsoft Dynamics, and AI to provide a better experience for agents and customers.
Since implementing Talkdesk, the team has increased the speed and efficiency for agents screening job seekers – increasing the likelihood of a good candidate match.
Average handle times are also more efficient by offloading calls that can be automated, and human-assisted contact has been reduced by 20% while supporting service levels of at least 90%.
CX Integrator Award
Winner: PowerSchool
Honorable Mention: Memorial Healthcare System
PowerSchool aims to make it easy for customers to easily engage via their preferred channel to help them get support with the least effort.
By leveraging the high availability and powerful integrations/connectors Talkdesk has with Salesforce, DOMO, Khoros, Calabrio Workforce Management, and Observe.ai Quality Management, the team has reduced call times, doubled the amount of quality audits per month, improved agent satisfaction, and achieved a three-percentage point increase in phone CSAT.
CX Digital Transformation Award
Winner: Parcel Pending by Quadient
Honorable Mention: MEDFAR
Parcel Pending by Quadient strives to treat every package like it is their own to make the process of receiving packages seamless and convenient.
The transition to Talkdesk helped support the company's rapid growth, enabling the team to successfully handle a 40% increase in package deliveries in 2021 without needing to increase staffing levels and with 15% fewer holiday hires.
The internal teams now have access to better data on customers with a Salesforce integration that makes their job easier.
Customer experience has improved, with call times reduced by 45-90 seconds, average handle time 8% lower year to date, first call resolution improved by 28%, and CSAT scores increased by 5%.
CX Revenue Leader Award
Winner: Tucows
Honorable Mention: Vivino
Customer experience touches every team at Tucows, and extends well beyond the contact centre, with a laser focus on providing a world class service experience. With Talkdesk, Tucows has been able to quickly scale to meet rapid business growth.
A Talkdesk/Zendesk integration links data from every action directly to Tucow's customer relationship management (CRM) solution, preserving context and creating a personalized experience for customers.
The results the team are experiencing extend beyond customer satisfaction, directly impacting the organization's bottom line with a triple-digit increase of return on investment, increased NPS scores, 30% increase in agent productivity, and a dramatic improvement to agent occupancy rates.
CX Social Impact Award
Winner: Aspiration
A Talkdesk customer since 2014, Aspiration has been disrupting the finance industry by "turning every transaction into positive action."
Founded in 2013, Aspiration is a financial services provider (and Certified B Corporation) that offers several ways for their customers to positively impact the environment as they spend, save, and invest.
From a credit card that triggers a reforestation partner to plant a tree with Plant Your Change, to helping reduce funding to the fossil fuel industry, and giving 10% cash back at socially conscious businesses, Aspiration empowers consumers, and their employees to drive positive change.
The CXcellence Award
Winners:
Debbie Pierro, VIP travel consultant, Gant Travel
Robert Del Villar, team lead, Gant Travel
Hannah Enright, CX specialist, woom bikes
These contact centre agents were nominated by a supervisor or administrator for demonstrating consistent outstanding customer service and for positively impacting their team and organization.
Talkdesk People's Choice Award
Winner: Glovo
Glovo's vision for customer support is to provide an amazing experience, so that it becomes a reason to recommend their service.
Proactive actions and self-service solutions are the prefered options, but if a customer cannot solve an issue with self-service tools, they should be able to contact an agent through any channel and get a personalised response immediately.
Within the first month of implementing the Talkdesk solution and integrating it with their CRM platform Kustomer, the team saw a reduction of 15% in average handle time and a 25% reduction in transfer rates. This, along with other CX initiatives, has led to an increase in CSAT.
"Every customer interaction within the contact centre is an opportunity to shape and build trust," said Kieran King, chief customer officer, Talkdesk.
"The companies featured in our CX Innovator Awards are using their contact centres as a strategic resource – helping to drive better outcomes for their customers in resourceful and creative ways."
For more information about Talkdesk - visit the
Talkdesk Website