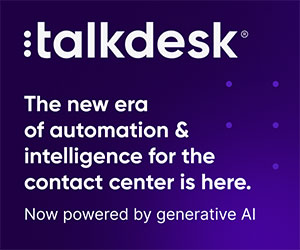 Talkdesk has announced the winners of its fourth annual CX Innovators Awards, which recognize companies who have used a variety of Talkdesk contact centre solutions over the past year to improve outcomes at each stage of the customer journey and deliver best-in-class customer experience (CX).
CX Innovators Award winners and honorable mentions were selected by an independent judging panel of CX professionals.
This year's honorees represent a wide range of industries. The winning entries highlight the value of accessible, reliable CX solutions used to speed up agent tasks, enable accurate, precise decisions and answers to customer questions, and make customer experience seamless through automated self-service options.
The proof is in a number of achievements, including increased response rates, reduced call handling time, and improved CX evidenced by higher net promoter scores (NPS) and customer satisfaction scores (CSAT), as well as lower operational expenditure (OPEX).
Below is the Complete List of 2023 Honorees:
CX Innovator Award
North America: Patagonia; Honorable Mention: Serta Simmons Bedding
EMEA: Pogust Goodhead; Honorable Mention: Quadient
AI Innovator Award
CAI; Honorable Mention: JK Moving Services
CX Business Impact Award
LegalShield; Honorable Mention: BCLC
CX Digital Transformation Award
Home Trust Company; Honorable Mention: WaFd Bank
CX Ecosystem Leader Award
CX Revenue Leader Award
Republic National Distributing Company; Honorable Mention: Motorola Solutions
CX Rookie of the Year Award
Worldwide Internet Insurance Services; Honorable Mention: Pogust Goodhead
CX Social Impact Award:
CXcellence Award:
Ruth Ganss, Customer Service Account Manager, Weissman
Among this year's winners, 80% are using Talkdesk AI contact centre software not only to respond to customers' needs and wants seamlessly across channels with personalized, intelligent service, but also to predict and prepare for their future needs and wants.
These invaluable insights enable companies to really listen to their customers and make them feel more connected-improving customer experiences, reducing costs, and driving operational efficiencies.
Supporting Quotes
Tiago Paiva, founder and chief operating officer of Talkdesk, commented: "Congratulations to all the winners of the 2023 CX Innovators Awards.
It's exciting to see so many diverse organizations reap the benefits of transforming their contact centres into fast, accurate, and precise customer experience enablers with Talkdesk technology.
The fact that customer satisfaction is on the rise for these companies is a huge win given the current economic climate is tough on almost all businesses and keeping customers happy is key to achieving a competitive edge.
These winning stories offer important guidance for any company embarking on the CX journey or looking to improve their CX outcomes."
Nate Brown, CX Accelerator founder and a judge in Talkdesk's 2023 CX Innovators Awards, stated: "When we design exceptional customer experiences, we are making people's lives better and easier.
It's wonderful that doing the right thing for our customers is also what will grow the business and differentiate us in the marketplace."
This blog post has been re-published by kind permission of Talkdesk – View the
Original Article
For more information about Talkdesk - visit the
Talkdesk Website