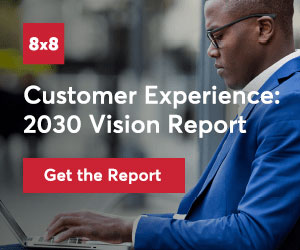 8×8 has announced its partnership with Dermalogica, a leading skincare provider across England and Ireland.
Dermalogica selected 8×8 to replace their ageing telephony system which was no longer keeping up with the cloud-enabled world we live in today.
They wanted to be able to measure, analyse and make improvements to customer service levels and needed a new system that could support this.
Samuel Wilson, Chief Customer Officer & Managing Director EMEA, 8×8, commented: "We are delighted to be working with a household name like Dermalogica."
"We know that delivering exceptional customer experience is vital for brands in 2020; with 8×8's powerful technology behind them, we're looking forward to helping Dermalogica achieve this."
With the 8×8 X Series, Dermalogica will have an entirely new cloud communications and contact centre platform, helping it enhance customer service and transform the way employees communicate and also how, and where, they work.
With powerful office collaboration tools and a new customer service function, the brand will be able to help employees communicate more effectively, both within the contact centre and into the broader organization, including its skin therapists.
The 8×8 cloud-based platform will also provide opportunities for remote and flexible working, something Dermalogica is experiencing growing demand for within the business.
After demonstrating 8×8 X Series' single platform of engagement for both communication, contact centre and analytics, Dermalogica were confident it would help empower them to communicate more effectively internally as well as with therapists and customers.
The contact centre software will enable Dermalogica to measure the quality of the service provided while using 8×8's speech analytics capability to find ways to make improvements to the way customers are served.
This will give customer service managers the insight they need to manage their staff resourcing across busy periods and also offer training and support where needed.
Education is one of the core pillars of the Dermalogica brand and the new collaboration technology means that customers can contact the education department and get real-time help through the likes of chat on the website.
With this contact centre feature integrated with internal communication and collaboration tools, Dermalogica is also able to share information across the organization, ensuring high levels of customer service.
Jonathan Gottler, IT Service Manager, UK & EU at Dermalogica, said: "We started looking for a new communications partner, as we wanted to have the right tools to improve the customer experience."
"8×8's rich features, in particular the speech analytics function, was the 'wow factor' that made them an obvious choice."
"With analytics and reporting tools, we'll now be able to turn anecdotal data into evidence and use this to make real improvements to customer service."
"At the same time, being based in the cloud means we can offer remote and flexible working in a way we could never have done without 8×8."