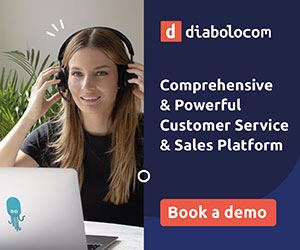 Cloud-based contact centre specialist Diabolocom sees a positive start to 2019 after a successful 2018 included an increase in turnover of up to 20% compared to 2017, reaping the rewards of its international investment.
Now present in the United Kingdom, Germany and Spain with commercial teams and operational support in each of these countries, the company has placed itself as one of the major players in the European market offering 100% cloud contact centre solutions.
Newly signed customers in 2018 include Saint-Gobain, Essilor, Altarea Cogedim, Galeries Lafayette or even Photobox and Mantrac, an authorised dealer for Caterpillar.
With international turnover increasing by more than 30% and the three-fold increase of its international turnover in 2019, Diabolocom is currently strengthening its technical and commercial teams in order to serve its increasingly international customer base in the implementation of advanced solutions for the management of customer interactions.
Technology
In 2018, Diabolocom launched the new generation of its contact centre platform which features greater openness, thanks to APIs that allow you to quickly interconnect with third-party systems and the company's data sources.
This open logic is manifested in native integration with the leading CRM on the market – Salesforce, Oracle, Microsoft Dynamics, SAP, easiware, Hubspot.
"This openness responds to a priority of our customers' needs: to be able to rely on the customer knowledge they hold in order to offer a more efficient and personalised service on all channels of communication," said Frédéric Durand, Founder and CEO of Diabolocom.
"Proposing rapid integration with the CRM in place has been decisive in most of the contracts that Diabolocom has won this year."
The strengthening of opportunities available on the voice channel includes advanced features in call blending, which allow agents to optimise their time. This means they can distribute time effectively between incoming calls and outgoing calls and exploit customer knowledge to contact/recontact customers at the most opportune time.
Also, Diabolocom has focused on bettering ease of use, for both agents and administrators, with fine management of agent skills for optimal call routing.
In 2018, Diabolocom also launched its offer of Certified Platform PCIDss, guaranteeing the security of credit card payments by telephone, and Certified HADS for the hosting of health data.
New Customers
2018 saw a flurry of new contract wins for Diabolocom. New customers chose Diabolocom for the flexibility and openness of its solution as well as the supportive service provided by its local teams.
Carrefour Voyages, for whom the main decision criteria were integrating with Microsoft Dynamics and the simplicity of taking control of the Diabolocom solution
BBGR (Essilor Group) chose Diabolocom for its ability to accompany the group in its transformation projects, especially in a context of implementation of CRM Salesforce. The solution is now used in the five agencies of the group covering the francophone market and is being deployed in the United Kingdom
Weber (Groupe Saint-Gobain) selected Diabolocom expertise to drive the transformation of its five client services, as well as it integration capabilities with Salesforce
Altarea (Cogedim) based their decision on the simplicity of integrating the Diabolocom solution with Microsoft Dynamics
Mantrac, an authorised dealer for Caterpillar chose Diabolocom in the UK, anglophone Africa, the Middle East and Russia for its advanced integration capabilities with Salesforce and the level of quality offered for international voice communications
Photobox already works with Diabolocom with Oracle and chose to extend the use of the platform at European level and to Australia for its subsidiary, Moonpig
Diabolocom was also selected by the German outsourcer Call & Surf Factory, German insurer Deutsche Familien Versicherung, Spanish outsourcer Angel 24 and by the Spanish leader in online perfume sales, Perfumes Club.
"These new contract wins reflect the global reputation for Diabolocom as a provider of great technical expertise and customer service," commented Frédéric Durand.
"Above all, they show that the pan-European organisation that we have created can cater for B2B and B2C customers having large interaction needs with their own customers in several countries or around the world, whatever the sector."
The Outlook for 2019
Frédéric Durand said: "In France, as in the United Kingdom, Germany and Spain, we have demonstrated not only the ability of our platform to meet the flexibility and reliability requirements of these international customers, but also the ability of Diabolocom teams to accompany them on a daily basis in the setting up and evolution of their contact centre solution."
"In 2019, we will capitalise on these strengths and continue to strengthen our workforce to accelerate growth, as market demand for the latest generation of our platform continues!"
At the beginning of the year, Diabolocom's business prospects are promising and allow the company to build on a growth of more than 30% in 2019, with a threefold turnover realised outside the hexagon.
To support this growth, Diabolocom anticipates:
Acceleration in recruitment – in 2018, the company's workforce increased by 30%. For 2019, 25 positions are currently open in the four countries where the company is located.
The internationalisation of the activity opens great opportunities to commercial and pre-sales profiles, as well as to systems and networks engineers, project managers, developers and support professionals.
The launch of a partnership programme – Open to CRM publishers and consulting and integration companies, this technical, commercial and marketing cooperation programme aims to build a comprehensive ecosystem to address the multiple needs of a fast-growing customer base.
In particular, it will include a partners Certification Program for the setting up and business operation of the Diabolocom platform with large accounts requiring daily support.
Omnichannel platform reinforced – The new-generation platform launched in 2018 included upgrades to the voice channel. 2019 will see the complete overhaul of the email, social networks and chat channels which will provide Diabolocom customers with a new generation of tools to manage the omnichannel routes and communications of their clients.
"Like any fast-growing company, our development and future successes depend on our ability to attract talent," continues Frédéric Durand.
"We can offer the right people an opportunity to become involved in interesting prospects of evolution in an environment increasingly international with very diverse projects and a management style with strong emphasis on initiative and autonomy."
To find out more visit the Diabolocom website: https://www.diabolocom.com