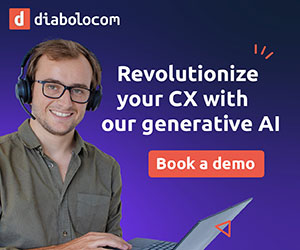 Diabolocom recently announced the acquisition of French start-up Phedone. This acquisition promises to catalyze significant advances in the field of artificial intelligence applied to customer management and democratize access to generative AI for contact centres.
Who is Phedone?
What does this acquisition mean for Diabolocom?
The impact of generative AI on the customer experience
Diabolocom's commitment to technological sovereignty
Who is Phedone?
Founded by Jonathan Foureur, Tom Héneault and Kevin El-Haddad, Phedone is a French start-up specializing in the development of artificial intelligence models dedicated to optimizing customer and prospect interactions.
An innovator, Phedone has created tailor-made sovereign AIs for companies with contact centres to improve CX with AI.
What Does This Acquisition Mean for Diabolocom?
Through this strategic acquisition of Phedone, Diabolocom combines its business know-how with Phedone's unique technological expertise.
This positions Diabolocom as a sovereign alternative to the giants Open AI, Microsoft and Google in the arena of generative AI applied to customer relations and CX.
The objective is clear: to provide companies with solutions to increase automation, improve customer satisfaction, boost performance and effectively control costs.
The Impact of Generative AI on the Customer Experience
The scientific advances in artificial intelligence provided by Phedone and natively integrated into Diabolocom's Cloud environment, enable companies to personalize their customer journeys while relying on innovative, agile and ethical models.
Trained AI models for an improved customer experience: transcription, categorization, call summarization, sentiment analysis, autonomous conversational agents in all languages, enable call agents to better manage interactions and facilitate their decision-making.
Proprietary technology to ensure performance and cost control: Phedone has made the demanding choice of developing proprietary AIs, thus controlling the entire production chain, to promote the digitization and democratization of the use of AIs in customer relations.
Sovereignty of development and data security: our proprietary technology meets sensitive data security and corporate compliance requirements, with storage on European soil.
Responsible and ethical models: the models created are optimized to meet the challenge of energy efficiency, while guaranteeing high performance and no "black box" effect.
Generative AI solutions for CX make it possible to better anticipate customer needs while optimizing call center agents' time, results and productivity. Automation, simplified decision-making and higher value-added tasks are the new daily routine for call center agents.
This solution is available worldwide through the Diabolocom Cloud solution and via APIs on the diabolocom.ai website for all companies wishing to integrate the performance of Diabolocom generative AIs into their CRM and internal tools.
Diabolocom's Commitment to Technological Sovereignty
A distinctive element of this collaboration is the commitment to technological sovereignty. Diabolocom has opted for the creation of proprietary AIs, controlling the entire production chain, in order to promote digitalization and make the use of AIs more accessible in customer relations.
The technology, designed in-house, ensures the protection of sensitive information and guarantees corporate compliance while storing data on European territory.
Frédéric Durand, President and Founder of Diabolocom, comments: "The contact center is positioning itself as the primary interface between a company and its customers…
Our ambition is to emerge as the European leader in cloud-based customer interaction management, with responsible data management and a goal of carbon neutrality by 2030."
For his part, Jonathan Foureur, now Director of AI at Diabolocom, points out, "The Phedone teams are delighted to see their technologies and know-how deployed on a large scale within Diabolocom.
This will benefit all Customer Relations players in Europe and then on the rest of the international scene thanks to a mastered technology, refined for customer relations."
In conclusion, this alliance between Diabolocom and Phedone symbolizes a major step forward in the evolution of customer relations.
With Phedone's cutting-edge technology integrated into the Diabolocom platform, the industry can look forward to significant improvements in the customer experience with AI.
This blog post has been re-published by kind permission of Diabolocom – View the
Original Article
For more information about Diabolocom - visit the
Diabolocom Website