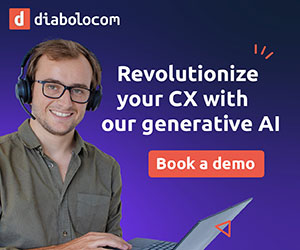 Launched in 2014, Onepark is defined as the Booking.com of parking.
Onepark aggregates the offer of available spaces in more than 2,000 public and private car parks in France and seven other European countries.
It has more than one million active users and more than 40,000 new registrations per month and it's rapidly expanding.
The company's growth has been supported by SNCF subsidiary Keolis and, since its third fundraising round in early 2019, by the ADP and AccorHotels groups.
Meeting the Challenges of International and Multilingualism
In 2017, after a second round of funding to extend its services beyond France, Onepark decided to strengthen its customer service by simultaneously equipping itself with a CRM and an incoming call management solution.
"We have chosen Diabolocom for telephony and easiware for CRM, two 100% cloud, scalable solutions that support multi-site deployments and, very importantly given our internationalization, natively multilingual," explains Martina Caiani, Head of Customer Success at Onepark.
"The fact that Diabolocom and easiware have been partners for a long time guaranteed us the interoperability and integration of the two solutions."
You will learn how, since January 2018, the Diabolocom telephony solution integrated into the easiware CRM allows Onepark's customer service to:
Control contact rates in a context of strong growth in France and Europe
Achieve and maintain a 98% dropout rate, despite the sharp increase in flows
Maximize the linguistic and business skills of its agents through call pre-qualification and intelligent routing based on the language of the callers
Reduce the number of calls requiring an agent's intervention by 30%
Offer its customers a 24/7 service, combining the resources of its two contact centres (Paris and Barcelona) and an on-call service provided by an external service provider
Look to the future with confidence, using the advanced features of the Diabolocom solution to implement new telephone and voice services that make life easier for customers and increase their satisfaction.
As Onepark is widening the gap with its competitors, none of whom are present on a European scale, Martina Caiani is already planning new projects:
"We know that Diabolocom's solution and teams are able to follow us in the evolutions we plan. They have largely demonstrated this since the beginning of our partnership.
"Whatever the company's growth rate and the choices imposed by this growth, I am sure that Diabolocom will be able to support us. "
To find out more visit the Diabolocom website: https://www.diabolocom.com