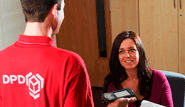 DPD, a member of GeoPost, has signed a £1.8m five-year agreement for NewVoiceMedia's ContactWorld for Salesforce.
The new model will consolidate all contact centre services into a single offering, providing DPD with real-time analytics. With scalable capacity and disaster recovery, the platform gives the company greater visibility of business metrics, through reporting and root-cause analytics, providing DPD with more control over its customer experience.
"Customer satisfaction is critical to our business, so we wanted the best technology," said Dwain McDonald, CEO of DPD.  "We'll now be able to activate our call centre agents with just a phone line and internet connection and access reports showing the performance of our call centre at the click of a mouse. This means we can spend less time on administration and focus all our efforts on delivering a market-leading customer service".
"ContactWorld will improve our operation and serve as a key differentiator. We will now have the potential to route callers to the same agent they spoke with the last time they called, ensure calls are delivered to the best person to handle their enquiry based on what we know about them, and avoid the need for callers to repeat themselves," concludes McDonald.
Jonathan Gale, CEO of NewVoiceMedia, adds, "Because it's cloud-based and can be deployed quickly and cost-effectively, ContactWorld for Salesforce is able to help companies like DPD transform their business quickly. It's great to see more and more businesses embracing new cloud technology to improve the way they deliver customer service."
For further information, please visit www.newvoicemedia.com
---