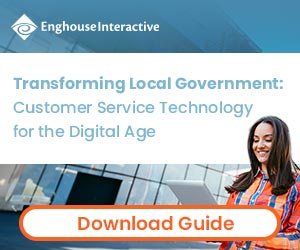 Following-on from his previous blog, Larry Ekiert of Enghouse Interactive shares more on how to empower customers with improved self-service options.
Digital literacy is the new normal.
With the ongoing global pandemic, end-user expectations are constantly being ratcheted upwards at an accelerating rate.
Powerful apps that provide instantaneous access to whatever users need and want – sent directly to their smartwatches, mobile phones, tablets and laptops – are now all-pervasive.
These ever-changing external forces are now influencing customer expectations across all businesses, in every industry and at every level.
Even service evolution plans are being driven by these realities, and as everyone knows, not providing the best possible experience, exactly how and when the customer wants it, ensures that they will go elsewhere.
Self-service is now at the forefront of all customer engagements. It's imperative to provide your customers with high-performance tools, capabilities and innovative approaches that ensure they get the answers or support they seek, as intuitively and quickly as possible.
Addressing Customer Needs
Automated tools such as virtual assistants (i.e. chatbots) are becoming more widely accepted by customers because simple, recurring requests that deal with very limited options can be best handled by automated tools, and customers actually prefer their use as their basic issues are very quickly resolved with minimal errors.
This is where virtual assistants/chatbots using robotic process automation (RPA) or machine learning (ML) are most beneficial as they help reduce queues, wait times and costs while also increasing overall customer satisfaction ratings.
In addition, the benefit of these tools is that there is a built-in "learning" capability that enables them to evolve into handling more complex and detailed requests.  
Solidify the Base – Product, Service and Process Knowledge
In addition to supporting your online web-tools and FAQ, there is also the opportunity to look at establishing a centralized repository of more detailed, specific or even highly technical information that is accessible by customers, contact centre agents and technical personnel. This is generically referred to as a knowledge base –  a.k.a. your FAQ on steroids.  
Over time, it will evolve to become the cornerstone for offering more advanced 'blended' support, where customers and contact centre agents work together to resolve customer issues.
When using a knowledge base, common issues are typically resolved by providing customers or agents with access to the documentation required to resolve their issue – in their preferred format.
Any exceptional issues or requirements are then captured and sent to a documentation optimization team for the development of new support documentation.
The new documentation then helps ensure that the next time the same issue arises, it will be easily resolved at the first point of contact, eliminating the need for agent escalation.
Proper categorization, indexation and cross-referencing of all documentation can help deflect over 60% of customer support inquiries.
Simultaneously, the use of an interconnected CRM system ensures that all transactional data is captured and available for subsequent detailed analysis, which can identify:
Where problem issues originate
What steps are usually needed to resolve them
What additional operational or business risks may be associated with these newly identified issues.
The reality is, the integration of a knowledge base is one of the most beneficial aspects of delivering exemplary self-service capabilities, and it has the most impact on improving the overall customer experience.
However, it requires an ongoing commitment to investing the resources required to keep it up to date informationally, and operationally optimized to maintain the highest possible service levels.
From an operational perspective, we've summarized the insights we've seen from our own experiences when deploying self-service tools.
As we have seen across our customers, these wide-ranging benefits are significant and typically continue to increase over time. This results in other positive impacts on down-stream service processes, helping organizations more easily meet ever-changing customer expectations:
Agent availability increased to 100% as there is always a way to provide services to the customer via automated capabilities.
Accessibility 24/7/365 means no more after-hours coverage issues, and no overtime required.
Chatbots improve overall operational capabilities, with productivity increased by as much as 50%.  Overall costs are typically reduced by at least 30%.
Increased deflection rates by at least 60% is realized by implementing a Knowledge Base, and routing routine requests to automated information services versus exceptional cases sent to skilled and empowered agents.
First Call Resolution for customer enquiries pretreated by automated processes increased resolution by 75% due to improved access to information via supporting tools, with only the exceptional issues routing to live agents.
Help make sure your organization delivers the service experience that exceeds customer expectations. Doing so will transform your contact centre from a cost-centre into a powerful revenue generator.
This blog post has been re-published by kind permission of Enghouse Interactive – View the
Original Article
For more information about Enghouse Interactive - visit the
Enghouse Interactive Website