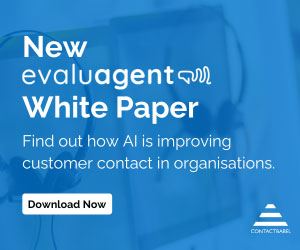 EvaluAgent has announced the launch of its AI-powered Conversation Analytics capabilities.
Designed and built with its' actual customers, this is the first analytics product available to the Contact Centre market that has real user cases at the heart of its functionality.
EvaluAgent Conversation Analytics uses AI automated speech recognition (ASR) and speech analytics to analyse every phone call, email and ticket for actionable insight and automatically evaluate them against the contact centres measures of success.
Following a record 12 months that have seen revenues and headcount more than double, there are now thousands of contact centre agents and reps using EvaluAgent's award winning Quality Management & Performance Improvement platform.
Across hundreds of customers globally, brands such as Jet2, DHL and Ubisoft are achieving real, tangible quality assurance benefits. The enhancements that Conversation Analytics will bring to their already successful QA teams are unquestionably game changing for the industry.
QA teams can move away from manually evaluating 1-2% of randomly selected conversations and focus on doing a deeper dive into the conversations where customers have expressed dissatisfaction, vulnerability or highlighted a broken process.
Jaime Scott, CEO of Evaluagent comments; "This release is proof that when applied with real customer needs in mind, AI can provide step change capabilities for contacts centres. For too long, bigger players in the market have claimed to provide game-changing technology.
Our customers have consistently told us that the promises from the big players aren't met by the solutions they provide, and at prices that are increasingly becoming unjustifiable."
"EvaluAgent Conversation Analytics will provide tangible benefits to our customers. We know this because its our customers who have designed and built this product in partnership with us.
It allows us to keep the pricing of our AI-powered QA solutions very affordable in the mid-market but allows for a true enterprise feature set to be made available for use in contact centres of all sizes across the globe".
For more information about EvaluAgent - visit the
EvaluAgent Website