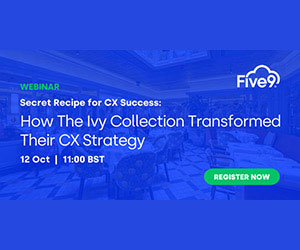 The importance of providing an excellent customer experience has been well documented – in consumer surveys, in analyst reports, and in the increasingly visible and honest feedback that today's customers share across social media.
The role that digital transformation plays in optimizing CX is also deeply understood. That's why Five9 launched the Five9 CX Maturity Model, a framework to guide enterprises through the next era of customer service in the contact centre.
The model helps organizations assess their current CX level and map out transformation goals so they can reimagine their customer experience and realize results in a fast-changing service landscape.
The CX Maturity Model assessment is built around four main criteria:
Workforce
Self-service customer engagement
contact centre intelligence
contact centre administration and infrastructure
Workforce is an area that is especially ripe for transformation. Businesses are increasingly challenged to meet their service demands as more consumers reach out across more devices and channels.
The vast majority of costs incurred by contact centres ($200+ billion) is related to labor costs, and simply hiring more agents is not a cost-effective way to scale service and support.
Additionally, service organizations must manage expected and unexpected spikes in demand (as proven by the pandemic) and often can't bring on more people quickly enough to respond effectively.
Last, but certainly not least, supervisors need to be able to retain and motivate their live agents by embracing technology that makes them more productive, efficient and engaged.
Artificial intelligence and automation are being increasingly adopted in contact centres to augment, improve and scale the performance of human agents.
There are many other service and administrative roles—supervisors, trainers, and quality assurance managers—that can benefit from these technologies as well. It has now become clear that the future of customer care will be powered by human and "digital" teams.
A digital workforce can operate alongside your live agents to automate routine aspects of their jobs and serve as intelligent assistants—advising and coaching them to become more productive and provide a better customer experience.
To deliver the type of service-experience consumers increasingly expect, service organizations need to understand the strategies and solutions that will help them successfully deploy a digital workforce.
Because you can't reimagine CX without reimagining your workforce, we have extended our CX Maturity Model with a Digital Workforce Toolkit, developed with expertise from the International Customer Management Institute (ICMI).
It builds on ICMI's workforce management and planning model that helps contact centre managers "identify the right number of properly skilled people and supporting resources in place at the right times to handle an accurately forecasted workload."
It helps managers determine how many virtual, as well as human agents, are needed to meet required service levels. It also helps you understand how a properly deployed hybrid workforce can improve CX while reducing service costs.
Finally, it provides practical guidance for building and optimizing your digital workforce including:
Platform requirements for deploying a digital workforce
Tools and tips for measuring the value of the hybrid contact centre
Use cases and deployment examples
An assessment to determine your readiness for a hybrid contact centre
This blog post has been re-published by kind permission of Five9 – View the
Original Article
For more information about Five9 - visit the
Five9 Website