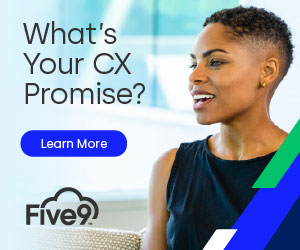 Five9 has announced that it received the highest overall vendor satisfaction score in the DMG Consulting 2021/2022 Cloud-Based Contact Centre Infrastructure Product and Market Report.
Every year, DMG Consulting conducts independent customer satisfaction surveys to identify market trends and measure end-user satisfaction with cloud-based contact centre infrastructure (CBCCI) vendors, their products, professional services, support, training, and innovation.
The satisfaction ratings are calculated by averaging the scores provided by customers in each category, using a point scale ranging from 1 (not satisfied) to 5 (completely satisfied).
Five9 earned 33 perfect scores out of a possible 34, and received the highest ratings across four overarching categories: vendor satisfaction, product features, platform features, and Workforce Optimization (WFO) / Workforce Engagement Management (WEM) capabilities.
"Enterprises are the winners in the CBCCI vendor differentiation battle," said Donna Fluss, President of DMG Consulting. "The cloud-based contact centre infrastructure vendors have hit their stride by giving enterprises what they want – the agility to meet the dynamic omni-channel needs of their customers on an inbound and outbound basis."
The Five9 Intelligent Cloud contact centre provides native omnichannel capabilities that include global voice service; intelligent virtual agents (IVAs) for voice and digital channels, email, chat, social media, messaging (WhatsApp, Twitter DM, Facebook Messenger), and SMS.
The Five9 platform also natively provides WFO/WEM capabilities including call/screen recording and quality management; knowledge management, desktop analytics, gamification; and historical and real-time interaction analytics.
These capabilities are critical as contact centres grapple with the Great Resignation. Five9 also provides WFO/WEM capabilities through its partner network, which includes industry leader Verint.
In addition to the high product features and vendor satisfaction ratings found in DMG's survey, Five9 Professional Services also achieved an average Net Promoter Score (NPS) of +90.
This measures the likelihood of customers and partners to recommend Five9 after Professional Services deployment engagement for the preceding quarter.
"At Five9, everything we do begins and ends with our customers, their needs and our joint vision," said Genefa Murphy, Five9 CMO.
"The fact that our customers recognize the positive attributes of our product and professional services is great to see.
"It speaks to the fact that Five9 thoroughly believes in partnering with our customers to successfully deploy technologies and maximize the value they get from their Five9 investment over time. We are committed to helping them succeed and reimagine their CX through the contact centre."
This blog post has been re-published by kind permission of Five9 – View the
Original Article
For more information about Five9 - visit the
Five9 Website