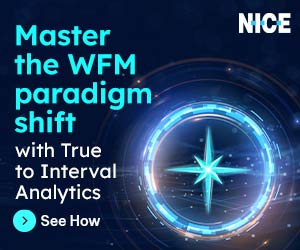 NICE has announced that it has been recognized as the market share leader in Workforce Management (WFM), based on seats, by DMG Consulting LLC.
Customers surveyed in DMG's 'Workforce Management for the Enterprise' report gave NICE the highest possible satisfaction score for product innovation, overall vendor satisfaction, product, and ongoing service and support
Donna Fluss, President, DMG Consulting, said, "New-gen WFM is the future of workforce management because it puts employee needs on equal footing with those of the company where they work.
"In the era of the Great Resignation, this is necessary for all enterprise employees, including those in the contact centre. New-gen WFM is designed to give employees what they most want – scheduling flexibility – and by doing so, it improves the customer experience."
Barry Cooper, President, NICE Workforce & Customer Experience Group, commented, "WFM plays a pivotal role in driving frictionless CX, especially in today's digital world. Innovating to empower employees to solve customer issues effectively and fostering engagement while enabling flexibility is a key goal to which NICE is committed.
"Our customers' acknowledgement of the value our innovation delivers speaks volumes and I'm pleased to see it reflected in this DMG report."
NICE achieved a perfect customer satisfaction score in the WFM modules category for agent self-service.
Also noteworthy is NICE's achievement of the highest possible satisfaction score in the WFM product capabilities categories of ability to support a hybrid workforce consisting of on-site and work-at-home agents and intelligent self-service solutions (IVAs, bots); provide agents with autonomy to self-manage availability, schedule preferences, time off and ad hoc schedule changes; and customize/capture KPIs and metrics to measure contact centre and agent performance.
For more information about NICE - visit the
NICE Website