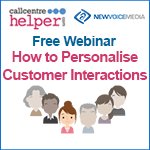 Click here to view the replay
Contact centres have often offered a "one size fits all" approach to customers. But a growing number are now personalising the customer experience.
Agenda
Introductions – Jonty Pearce, Call Centre Helper
Martin Hill-Wilson – Brainfood Extra
Bethany Ayers – NewVoiceMedia
Topics discussed
The best ways to personalise interactions
Personality profiles
Routing based on CLI
Appropriate use of customers' names
Building rapport
360 degree view of the customer
Using different telephone numbers
Looking after high value customers
Top tips from the audience
Winning tip: "We have a very good CRM system that routes callers through to the first customer rep that they dealt with, It records the previous problem/issue and so they always deal with the same person." Congratulations to Alex13
This webinar was also shown at a later time of 11am EST & 8am PST
Original Webinar date: June 2015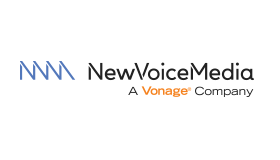 This webinar was brought to you by Call Centre Helper and is sponsored by NewVoiceMedia.
Click here to view the replay.
---